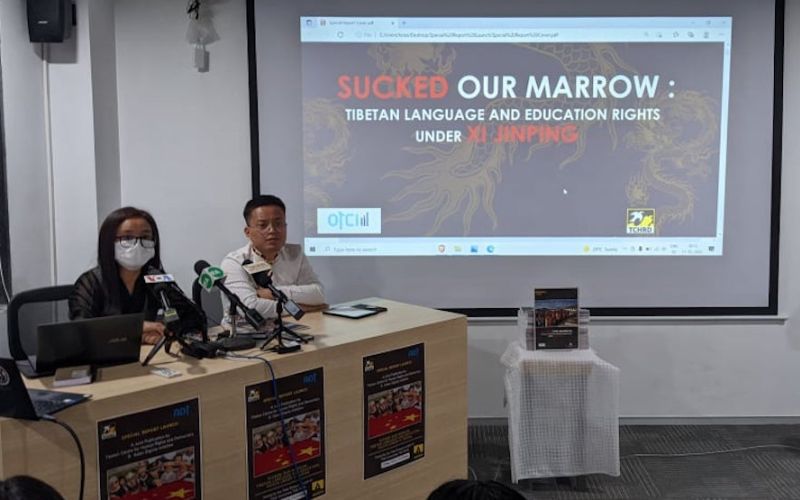 "Sucked our Marrow: Tibetan Language and Education Rights under Xi Jinping": TCHRD releases new report
Dharamshala: The Dharamshala-based Tibetan Centre for Human Rights and Democracy in collaboration with the Korea-based Asian Dignity Initiative released a joint report "Sucked our Marrow: Tibetan Language and Education Rights under Xi Jinping" on Wednesday, where the researchers found that the last decade under the Xi Jinping dictatorship has systematically forced the cultural assimilation policy in Tibetan regions under the guise of "ethnic policy in the new era".
"Children and young people have become primary targets in Xi Jinping's campaign to build an education system that violates constitutional guarantees for regional autonomy and the principle of equality and non-discrimination. The new system gives Putonghua, Mandarin Chinese based on the Beijing dialect, higher status and power over minority languages," the press release stated.
The detailed report presented at the Tibet Museum in Dharamshala also warned against the speed at which the CCP government is closing down private schools and further imposing Putonghua national curriculum in Tibet. It said that the change in education policy is an "attack on the cultural ecosystem that serves as the last bastion of Tibetan cultural heritage in the seven decades of Chinese occupation."
The study was in collaboration with ADI, a non-governmental organization dedicated to defending human rights of marginalized people in Asia. "Without education, there is no future for any community. Without their own language, people lose the cultural identity. The reality in Tibet is far from the vision inscribed in the provisions of international human rights," ADI Director Kinam Kim said at the launch.
The findings revealed that the systematic rigidity in which the right to education functioned forced communities into forgoing their own mother tongues. "It is increasingly evident that Chinese laws and policies cannot protect the right to use minority languages because they are part of a broader nation-building strategy geared towards creating a zhonghua minzu identity with a single language and identification with the Chinese nation-state," TCHRD further noted.
More Info here.
(Information supplied by TCHRD)
By Team TRC