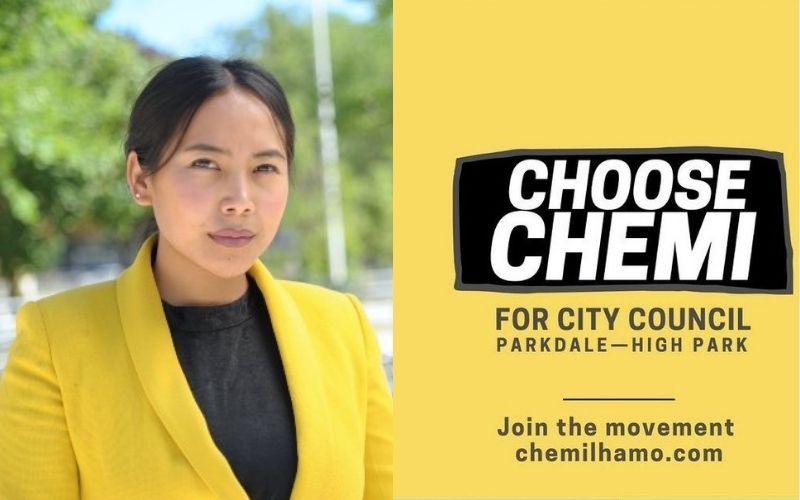 Supports pour in for Chemi Lhamo as she announces bid for City Councilor
Toronto: On July 6, Human rights activist and Parkdale community organizer, Chemi Lhamo announced her campaign for Toronto City Council for the Parkdale High Park. About 50 community members gathered in front of City Hall to celebrate Lhamo's campaign registration.
She noted on her social media handle that "Our campaign is a fight to open the doors at City Hall and bring the community into the halls of government. Half of us in Parkdale High Park live in rental units, paying well over 1/3 of our income just on rent alone. Residents demand real housing justice that will deliver safe, secure and easily affordable housing to call home."
Chemi is a remarkably high-achieving young person who has demonstrated the ability to lead; successfully and creatively curate spaces for dialogue and mobilize people. Chemi Lhamo was a 2015, 2017 Parliamentary Friends of Tibet intern in Parliament Hill, as an active advocate for Tibetan Canadians, and as an engaged member of the Parkdale community, including her experience as the Parkdale Collegiate Student Union President.
Chemi is heavily involved in Parkdale's Tibetan community, is the Canadian representative for International Tibet Network's Steering Committee, and has served as President of the Student's Union (University of Toronto Scarborough) and board of the Canadian Tibetan Association of Ontario and Students for a Free Tibet Canada.
Later that evening, Chemi spoke to a crowd of about 300 people outside of Parkdale Collegiate institute on Jameson Ave, and Queen St. who gathered to celebrate the Dalai Lama's 87th Birthday.
On key issues, Lhamo says: 1) Housing: "We have community members in one of the wealthiest cities in the world freezing to death". 2) Climate Crisis: "We need to actually be investing in local climate solutions". 3) Police Reform: "Having billions of dollars being put into police, and not into the priorities that we want to seeing such as housing, climate, and anything and everything that the community needs really is a failure on the city's end, and we hope to change that".
"Our communities can't be an afterthought for our city, that's why I am running to be your nest councilor in Parkdale High Park", She mentioned.
Information supplied by The Hoser
By Team TRC