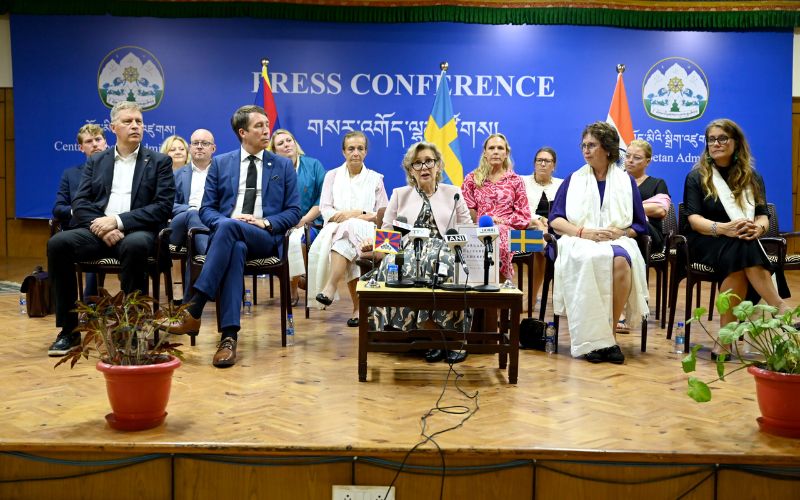 Swedish Parliamentary Delegation Meets Dalai Lama, Expresses Solidarity with Tibetans on 63rd Anniversary of Tibetan Democracy Day
A prominent Swedish parliamentary delegation, led by Margareta Elisabeth Cederfelt, made a historic visit to Dharamshala, India, on Saturday, September 2, to commemorate the 63rd anniversary of Tibetan Democracy Day and express their unwavering solidarity with the Tibetan people.
The delegation of 11 members took an active role in the celebrations of Tibetan Democracy Day, a significant occasion marking the establishment of the Tibetan democratic system in exile by His Holiness the Dalai Lama on September 2, 1960. This commemorative event symbolizes the Tibetan people's relentless pursuit of freedom, democracy, and their right to self-determination.
During their visit, the Swedish parliamentary delegation had the distinct honor of meeting with the Tibetan spiritual leader, His Holiness the Dalai Lama. The meeting provided an opportunity for meaningful discussions on the importance of promoting peace and preserving Tibetan culture and identity.
Margareta Elisabeth Cederfelt, who led the delegation, expressed Sweden's longstanding support for Tibetans. She emphasized the role of Swedish parliamentarians in advocating for Tibet through various means, including legislative debates and collaboration with organizations like the Swedish Tibetan Committee.
Cederfelt shared her optimism about the growing awareness of Tibet-related issues among Swedish citizens, with an increasing number of parliamentarian visits and engagements with religious leaders from the Tibetan community. She emphasized the importance of continuing these efforts to raise awareness about Tibet's struggle for autonomy and human rights.
Furthermore, Cederfelt commended the Tibetan government in exile for its commitment to gender equality and inclusivity, as they granted equal voting rights and election eligibility to all Tibetans regardless of gender, age, or social background. She strongly criticized China's colonial boarding school system in Tibet and called upon Beijing to respect Tibetans' freedom to practice their religion, culture, and language while preserving their distinct Tibetan identity.
Richard Johannes Jomshof, one of the Swedish MPs, highlighted the significance of parliamentarians and Swedish citizens alike joining forces to draw attention to the ongoing Tibetan issue. He stressed the importance of continued efforts to inform the global community about Tibet's prolonged struggle for freedom and human rights.
Edited and collated by Team TRC