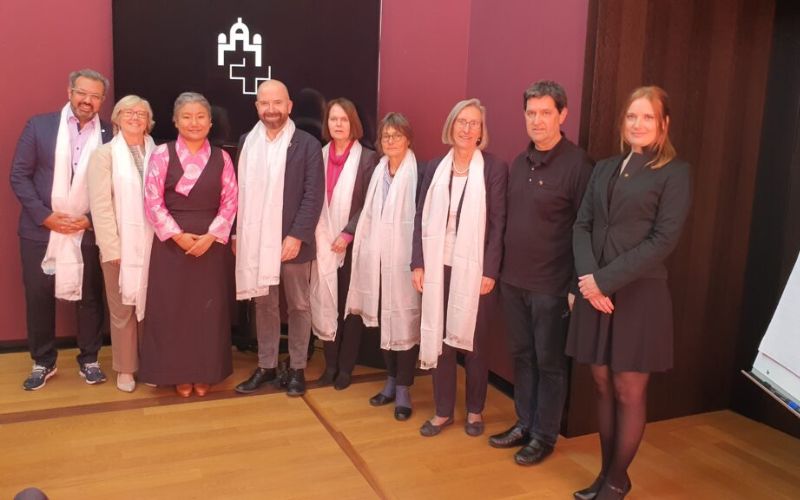 Swiss Parliamentary Group for Tibet Hears Testimonies on Repression of Tibetans in Tibet
(Source: Tibet.net)
Bern: Today, the Swiss Parliamentary Group for Tibet heard testimonies on culture-based violence and repression in Tibet under the occupation of the Chinese government as well as transnational repression being carried out against Tibetans.
Fanny Iona Morel author of Whispers from the Land of Snows: Culture-based Violence in Tibet and Representative Thinlay Chukki from Tibet Bureau Geneva gave detailed accounts of the ongoing repression of Tibetans in Tibet as well as China's transnational repression against Tibetans-in-exile.
Ms. Morel who has also visited Tibet noted, "I also want to share a personal experience I had in Lhasa. Tibetans are not the only ones being monitored. I have personally been followed on several occasions, without any discretion, by police officers who were very attentive to my movements. I was also very concerned about the intimidation of the Chinese and military police forces. In Lhasa, Jokhang Temple and its kora are a good example of such intimidation. In addition to the countless surveillance cameras on the closed and secured streets, the police and military presence is overwhelming. Armed, soldiers in combat gear are posted all around the neighborhood, in the streets and on rooftops, and regularly patrol among the pilgrims. Fire extinguishers and the metallic snare poles."
During her testimony, she further noted that "what should be considered acts of genocide in Tibet, as declared by the Legal Committee for the Investigation of the Question of Tibet in 1960, are continuing with dramatic consequences for the safety of the Tibetans and diminishing their hopes for Peace day by day."
On the issue of the Chinese government's persecution of Tibetan religion and culture, she noted that "By stating that the Tibetan spiritual leader's reincarnation is an internal Chinese matter, the CCP once again chooses to ignore the fact that the Dalai Lama is an eminent spiritual figure, who is recognized internationally and who inspires people across the globe, well beyond the confines of Tibet and the Tibetan diaspora. His succession is a matter of central importance for Tibetan Buddhism, which is practiced in many countries. If the CCP goes ahead and imposes a 15th Dalai Lama on Tibetans on the basis of its own laws, rules and interests, this will merely exacerbate the conflict in Tibet and further place Tibetans in jeopardy."
The Parliament members expressed their grave concerns about the situation in Tibet and noted that they are closely monitoring the situation. They assured their continued support and solidarity for Tibet and Tibetans.
By Team TRC