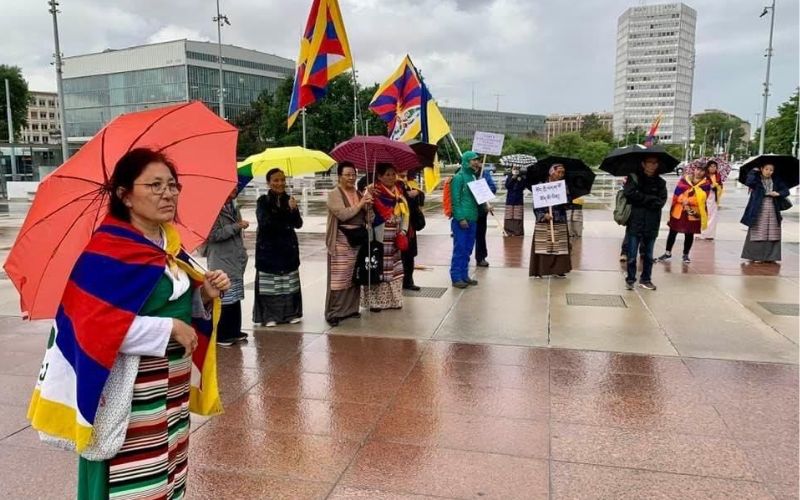 Swiss-Tibetans Hold Demonstration against Chinese government suppression of freedom in Tibet
Geneva: Tibetan Community of Switzerland & Liechtenstein held a demonstration against the Chinese government's continued suppression of fundamental freedoms in Tibet on 24 June, paralleling the ongoing 50th UN Human Rights Council session that took place from 13 June to 8th July 2022.
Despite heavy rain and gusty winds, members of the Tibetan community of Switzerland & Liechtenstein gathered in front of the UN Human Rights Council building in protest against China for its continued violations of fundamental rights and freedom in Tibet. The members of the community observed a minute of silence to pay respect to all Tibetan martyrs. Holding "Free Tibet" placards and Tibetan national flag, members of the community raised slogans against the Chinese government repression in Tibet.
On behalf of the Tibet Bureau Geneva, UN advocacy officer Kalden Tsomo addressed the gathering. Also, representative from Swiss-Tibetan Friendship Association Jacque Arnal, Vice President of Swiss-Tibetan Women Organisation Passang Dolma and representative from Tibetan Youth association in Europe Tsering Gonpa addressed the gathering.
The President of Tibetan Community Karma Choekyi accompanied by UN Advocacy Officer Kalden Tsomo from the Tibet Bureau submitted an appeal letter on Tibet to the UN human rights office. In addition, the community expressed profound disappointment over the outcome of the recent visit of the UN high commissioner for human rights to China.
Tibetan culture and identity are endangered because Tibet continues to be under illegal occupation of China. The systematic political repression, state-led forced assimilatory policies, economic marginalization and social discrimination have led to cycle of unrest in Tibet, including self-immolation protests, said the Tibetan community in the press statement read out by Vice President of the community Tenzin Wangdue.
Information Supplied by Tibet.net
By Team TRC