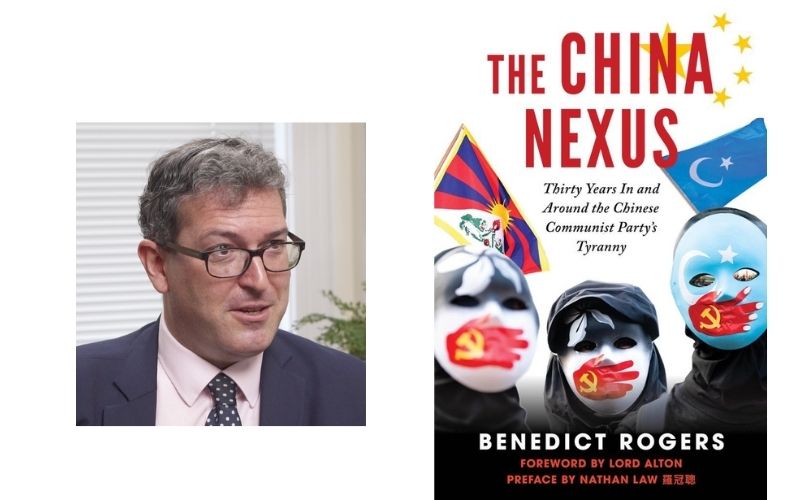 The China Nexus: Benedict Roger's new book to hit stores in October
London: China Nexus: Thirty Years In and Around the Chinese Communist Party's Tyranny, a book by human rights activist and Co-Founder and Chief Executive of Hong Kong Watch Benedict Rogers is set to be published in October 2022.
"#XiJinping #CCP already don't like me much. They've banned me & threatened me & my mother. When they read this book, out in October by @opibooks, I wonder what they'll do? But if you want to know truth about #China #Uyghurs #Tibet #Taiwan #Myanmar #NorthKorea, this is for you :)", tweeted Benedict Rogers.
The book published by Optimum Publishing International tells the story of his fight for freedom for the peoples of China and neighbouring countries Myanmar and North Korea and sets out how a global movement for human rights in China is emerging and what the free world should do next. It describes the importance of the "China Nexus" in the author's journey and geopolitics and its challenges. Pioneering international inquiries into forced organ harvesting from prisoners of conscience, the genocide of the Uyghurs and global action for Hong Kong, as well as highlighting the Vatican's silence, the author has been at the heart of advocacy for human rights in China in recent years.
Benedict Rogers, born in London, England, first went to China at age eighteen to teach English for six months in Qingdao, three years after the Tiananmen Square massacre. That opened the door to a thirty-year adventure with China, from teaching English in schools and hospitals to working as a journalist in Hong Kong for the first five years after the handover to travelling to China's borders with Myanmar/Burma and North Korea to document the plight of refugees escaping from Beijing-backed satellite dictatorships and then campaigning for human rights in China, especially for Uyghurs, Christians and Falun Gong practitioners, human rights defenders, journalists and dissidents, and the people of Hong Kong.
Benedict Rogers is senior analyst for East Asia at the international human rights organisation CSW, co-founder and deputy chair of the UK Conservative Party Human Rights Commission, a member of the advisory group of the Inter-Parliamentary Alliance on China (IPAC) and a board member of the Stop Uyghur Genocide Campaign. He is the author of six books, including three books about Myanmar, including his latest, "Burma: A Nation at the Crossroads". His faith journey is told in his book "From Burma to Rome: A Journey into the Catholic Church" (Gracewing, 2015).
More details here.
Information supplied by Barnes and Noble
By Team TRC