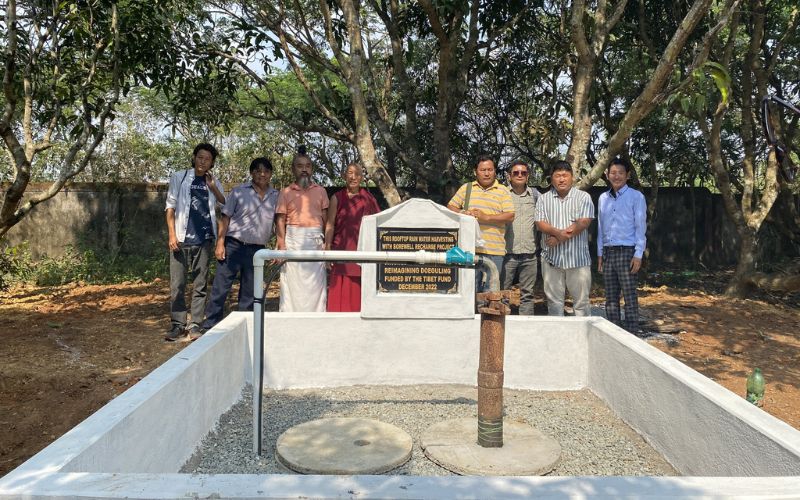 The Tibet Fund provides rainwater harvesting units in Mundgod
The Tibet Fund collaborated with Reimagining Doeguling Tibetan Settlement to provide rainwater harvesting units to Pema Tsel Hostel students, as well as patients and staff at Gaden Jangtse hospital in Doeguling, Mundgod. The Tibet Fund is funding this project as part of their Tibetan Civil Society Empowerment Program (TCSEP).
The installation of rainwater harvesting and borewell recharging units is expected to help restore ground water levels in the area and contribute to the settlement's ongoing integrated water-management efforts.
In 1959 as a result of China's invasion of Tibet the monasteries of Ganden and Drepung were re-established at Doeguling, Mundgod in the Indian state of Karnataka. The name Doeguling was given by His Holiness the Dalai Lama. It is translated as "wish-fulfilling place." Doeguling was established in 1966, shortly after the Tibetan diaspora began in 1959.
Doeguling is one of India's largest Tibetan refugee settlements. Doeguling has been successful in preserving these valuable cultural assets, which have over a millennium of wisdom and spiritual practises dedicated to discovering the true nature of self, reality, and happiness, under the leadership of His Holiness the Dalai Lama, the Central Tibetan Administration ("CTA"), and the Indian government.
The Tibet Fund was founded in 1981 at a time when the international community had seemingly forgotten the plight of the Tibetan people. In the early years of exile since 1959, survival of Tibetan refugees depended on the generosity of the governments of India, Nepal, Bhutan, the UN High Commission for Refugees, foreign donor agencies, and the faith and resilience of the refugees themselves.
The Tibet Fund's mission is to preserve the distinct cultural and national identity of the Tibetan people.
Edited & Collated by Team TRC