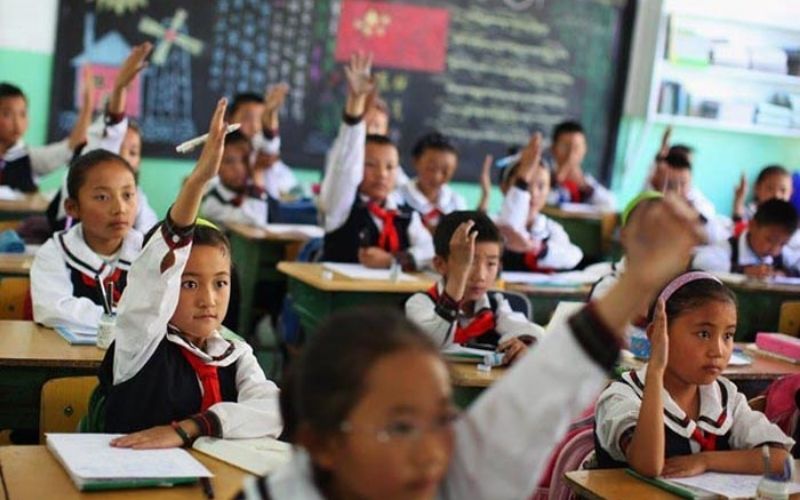 Tibet Action Director Lhadon Tethong testifies on China's colonial boarding schools in Tibet.
"China's colonial boarding school system in Tibet is the cornerstone of a broader effort to wipe out the current and future resistance of the fiercely proud Tibetan people, by eliminating the three pillars of Tibetan identity - language, religion, and way of life", observed Tibetan activist Lhadon Tethong as she testified before the Congressional-Executive Commission on China here on April 5, 2022.
The massive colonial boarding school system threatens the very survival of the Tibetan people and nation because they so wholly and completely target the future of Tibet - our children, pointed out Lhadon. This racist policy is part of a broader effort to wipe out the "current and future resistance of the fiercely proud Tibetan people", read the testimony.
Calling China's policies in Tibet "a genocidal project" that tries to "eliminate dissent and difference once and for all, by transforming Tibetans into Chinese", Lhadon highlighted the case of Tsewang Norbu, the famous Tibetan pop star who self immolated on the eve of the 63rd anniversary of the 1959 Tibetan Uprising in Lhasa.
The report, "Separated From Their Families, Hidden From the World: China's Vast System of Colonial Boarding Schools Inside Tibet," published by Tibet Action Institute in December 2021 had found that an estimated 800,000 to 900,000 Tibetan students aged six to 18, as well as an unknown number of four and five-year-olds, are in state-run boarding schools where they are forced to study primarily in Chinese, are barred from practising their religion, and are subjected to political indoctrination. Read the full report here.
Read the full testimony here.
(Information Supplied by CECC)
By Team TRC