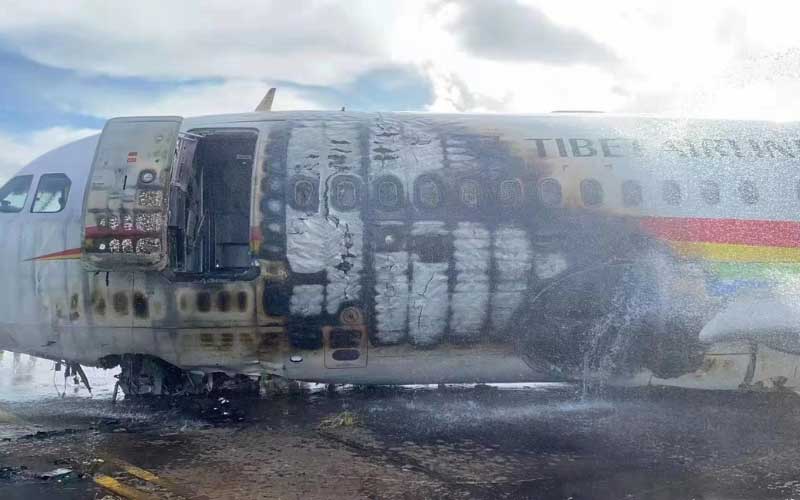 Tibet Airlines flight flying from Chongqing to Nyingchi catches fire; 25 injured
Chongqing: A Tibet Airlines plane, Flight TV9833, reportedly caught fire Thursday after veering off the runway at a Chinese airport, but all passengers and crew were "safely evacuated", the airline said.
According to reports, the flight was carrying 113 passengers and nine crew. It was headed from the southwestern city of Chongqing to Tibet's Nyingchi when "abnormalities" were noticed and take-off was suspended, causing the jet to overrun the runway, the company said in a statement.Tibet Airlines said it happened at 8:09 a.m. (0009 GMT) as the flight was preparing to take off. A video was circulating in social media that showed the plane in flames
This incident comes after a crash killed 132 people in which China Eastern flight travelling plunged from 29,000 feet into a mountainside in March 2022. The service was travelling between Kunming to Guangzhou at a cruising altitude when it suddenly nosedived at around the time it should have began its descent.In the immediate aftermath of the crash, China's ruling Communist Party had moved quickly to control information, revving up its censorship machine as media outlets and residents raced to the crash site.
China has imposed strict controls on flow of information from Tibet, isolating Tibet even more from the outside world and making it difficult to obtain credible, timely data about any incident.
More details here.
Information supplied by NDTV
By Team TRC