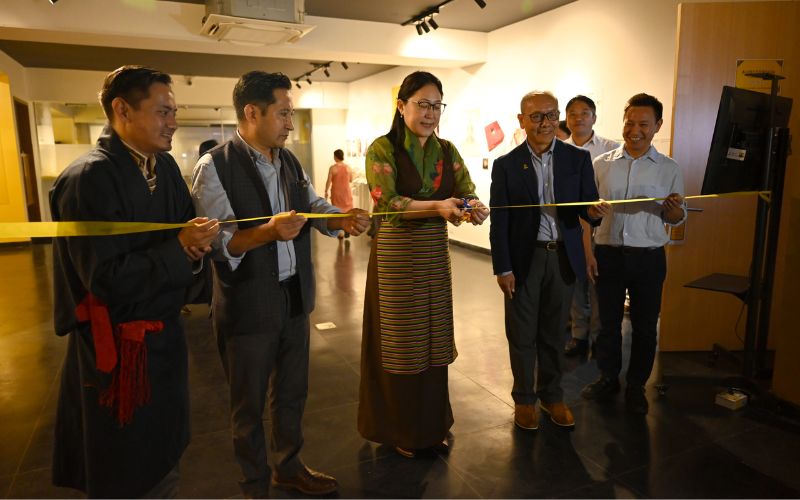 Tibet Museum inaugurates new exhibition titled "Mapping Tibet"
Tibet Museum, a prominent hub for preserving Tibet's rich cultural heritage, witnessed the grand inauguration of its temporary exhibition titled "Mapping Tibet." The ceremony was graced by Kalon Norzin Dolma of the Department of Information and International Relations (DIIR), Central Tibetan Administration (CTA) on 07 Aug 2023.
"Mapping Tibet" promises to be an educational journey into Tibet's cartographic past, shedding light on its evolution while emphasizing the cultural importance of retaining authentic place names. The exhibition will undoubtedly contribute to enriching the understanding of Tibet's history and heritage for both local and international audiences.
The event drew esteemed guests, including Tsering Wangyal Shawa, an expert in Geographic Information System (GIS) and Map Librarian at Princeton University Library, who delivered an insightful address on Tibet's cartographic history. Also in attendance were Secretary Palden Dhondup from the Department of Home, DIIR Secretary Karma Choeying, and DIIR's Additional Secretaries Tenzin Lekshay and Namgyal Tsewang.
Tenzin Topdhen, the Director of Tibet Museum, provided a brief overview of the institution's history and introduced the aims behind the exhibition. "Mapping Tibet" is organized into four distinct sections, each delving into pivotal periods: Tibet's map from the 17th to 19th century, the map from 1904 to 1918, post-1950s Tibet's map, and a detailed map of the capital city, Lhasa.
Tsering Wangyal Shawa, the distinguished guest, offered an enlightening discourse on the evolution of Tibet's cartography. He traced the development of maps from the 17th and 18th centuries, relying on information sourced from Jesuit missionaries and traveler accounts. Shawa went on to explore how modern cartography emerged, primarily influenced by Western and Chinese cartographers until the Shimla Convention of 1914. He highlighted the pivotal role the Tibetan exile administration played in standardizing the map post its establishment, and he underscored the importance of preserving the original Tibetan place names.
Shawa, who also teaches GIS-related courses at Princeton School of Public and International Affairs, passionately advocated for preserving Tibetan culture and identity through accurate place and geographical feature names. He lamented the potential loss of original Tibetan place names over time due to the dominance of Chinese-sounding names on contemporary maps.
From August 7 to 10, Tsering Wangyal Shawa will impart training on QGIS and mapping at the TCRC hall, providing valuable insights to enthusiasts keen on mastering the intricacies of cartography.
Kalon Norzin Dolma commended the Tibet Museum's commitment to organizing the exhibition in line with international cartographic standards. In her remarks, she stressed the importance of maps as vessels of historical narratives and underscored the need to raise awareness among Tibetans about the significance of maps in preserving their civilization's stories.
Edited and collated by Team TRC