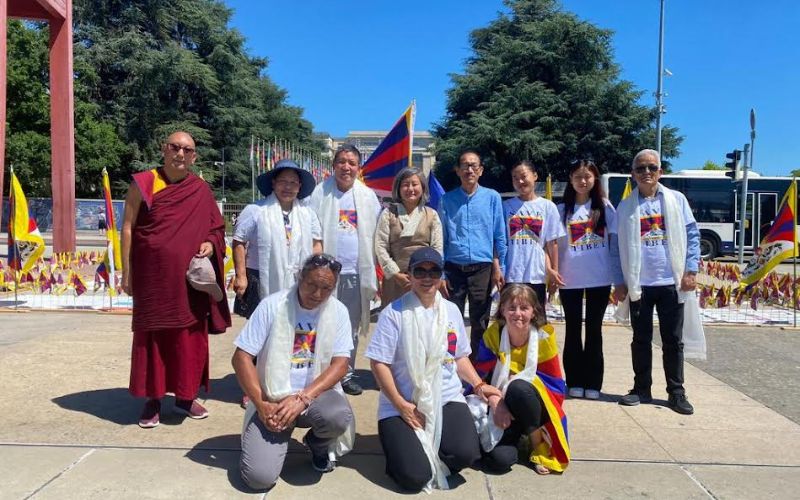 Tibet Solidarity Movement calls to restore freedom and peace in Tibet
Geneva: A group of exiles Tibetan families from Switzerland, launched a solidarity campaign in Switzerland for Tibetans in Tibet on 10 December 2012 and has now completed its 125th campaign day. On the second Wednesday of every month, the group assembles in front of the UN building in Geneva and calls upon the United Nations to restore freedom and peace in Tibet.
On 13 July 2022, the group began its 126th day of campaign in front of the UN building. In their 126th appeal letter to the UN High Commissioner for Human Rights Michelle Bachelet and the UN Secretary General Antonio Guterres, the families have noted that "Since our homeland Tibet is also a part of this world, since we Tibetans are also human beings, we will ardently appeal the United Nations and the world governments, as well as all the people who believe in truth and justice, to save Tibet and the Tibetan people from the tyranny and oppression of the Chinese government which they have been suffering for the last sixty years."
The movement is organized in honor of Tibetans who have self-immolated in Tibet as an ultimate form of non-violent civil disobedience, in memory of 1.2 million Tibetans who have perished under the Chinese rule and the Tibetan people living inside Tibet undergoing political repression, cultural assimilation, social discrimination, economic marginalization and environmental destruction imposed by the Chinese government.
The Representative of His Holiness the Dalai Lama at the Tibet Bureau Geneva, Thinlay Chukki and the former Representative of the same office, Chhimey Rigzen joined the campaigners and thanked them for their continued campaign for the sake of Tibetans in Tibet.
"The struggle for justice and freedom for Tibetans in Tibet has been a long and arduous one. It requires continued and concerted efforts from every individual. On behalf of the Tibetans inside and outside Tibet, I thank the Tibetan exile families for your steadfast commitment and dedication in organizing this campaign for over nine years now," noted Representative Thinlay Chukki.
Information Supplied by Tibet.net
By Team TRC