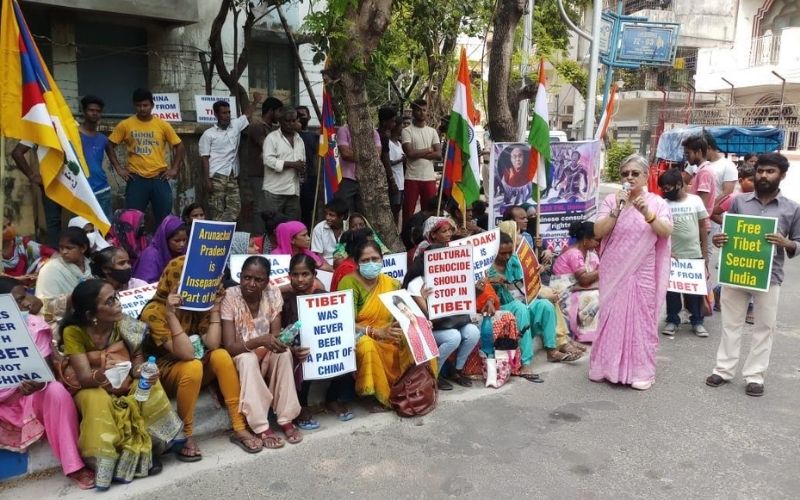 Tibet Supporters stage sit-in front of the Chinese Consulate in Kolkata.
Kolkata: Tibet Supporters led by Smt. Ruby Mukherjee, Core Group for Tibetan Cause – India (CGTC-I) 's Regional Convener for Bengal and Odisha, carried out a demonstration-cum-dharna in front of the Chinese Consulate in Kolkata on 23 April 2022. The demonstration was organised as the Chinese delegation is taking part in a business summit in Kolkata.
According to reports, around 150 people from four NGOs, namely Ganusamanoy Kolkata, 'We are the Common People', 'Wise World Foundation and Sanskriti Foundation', participated in the protest against the visiting Chinese delegation. The members raised Tibetan and Indian National Flags before the Consulate and called for a restoration of human rights and freedom in Tibet. In addition, the demonstrators sang songs and recited poems in support of Tibet and sat for a one-hour dharna in solidarity and respect for the recent self-immolation of two Tibetans.
In her address to the media, Smt. Ruby Mukherjee said they are in front of the Chinese Consulate to protest the visiting Chinese delegation for what is happening in Tibet and urge the Chinese government to stop torture and human rights violations in Tibet.
She further mentioned that they are in solidarity with the departed souls of Tsewang Norbu, a young Tibetan singer and Taphun, 81 years old Tibetan who had recently self-immolated themselves in protest against the Chinese rule in Tibet.
The demonstration was joined by personalities such as Shri Ramesh Kumar Handa, DIG (retd); Prof. (Dr.) Mohit Roy and Shri Sobhajeet Dutta Gupta, social activist.
(Information Supplied by Tibet.net)
By Team TRC