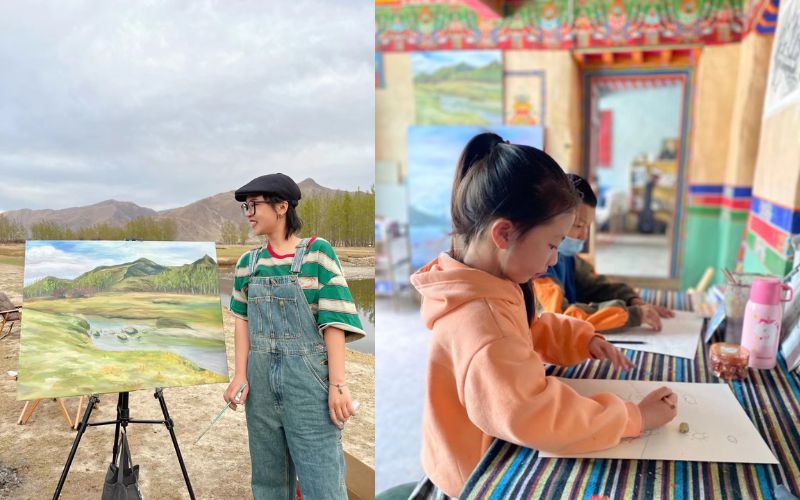 Tibet tourism boom, 3D mural villages and & Disneyfication of Tibet
Lhasa : Tourism is booming in Tibet and this is posing risks to the region's fragile environment and historic sites. The latest in the list includes a new 3D mural village; Chinese social media handles are replete with images of Tibet's first 3D mural village. This is to be read in the context of growing surveillance in Tibet and ban on entry of journalists, civil society and Tibetans-in-exile to Tibet.
Tourism boom in Tibet is also associated with increasing threats to the fragile ecosystem of Tibet. Garbage crisis in Tibet has escalated due to the rapid urbanization, mass influx of tourism & increasing construction that have been taking place in Tibet. According to Tibetan administration-in exile, with rapid urbanization and a massive influx of tourists in the region, Tibet stands at a critical junction in waste management. Unless the Chinese government takes a bold and effective course of action, the world's highest plateau could plunge into the same fate as other developing countries. There is a high possibility of the garbage problem quickly spiralling out of control.
Another aspect of concern is the impact of increasing footfall in Tibet on its historic sites. In a Firstpost article dated June 2021, the number of visitors is limited to 5,000 per day at the Potala Palace, the former home of the Dalai Lamas. Balancing tourist demand with the need to minimise wear and tear on the massive hillside structure is a constant challenge, the article quoted the head administrator.
The new 3D mural village is yet another addition to Tibet's tourism industry, which overlooks the fact that Tibet was unlawfully invaded by China where it is committing serious human rights violations. Tourism to Tibet helps to legitimise China's rule and attempts to cover up the harsh reality of six decades of political and cultural repression.
By Team TRC