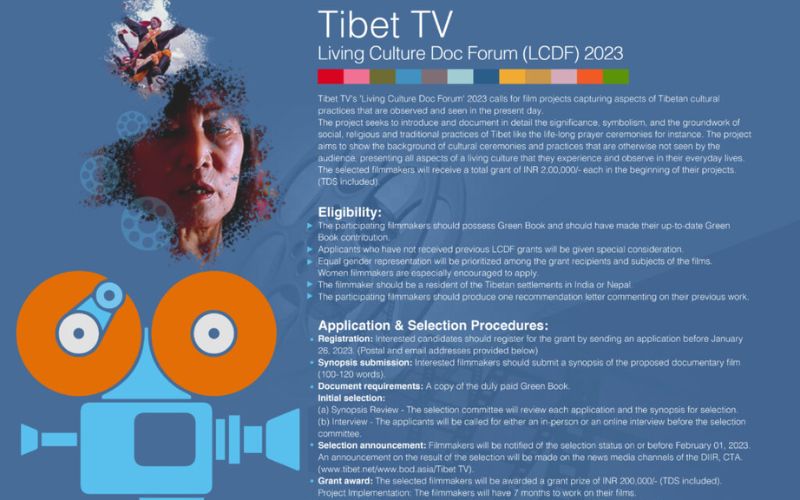 Tibet TV based in Dharamshala to launch Living Culture Doc Forum
Source: Tibet.net
Tibet TV's 'Living Culture Doc Forum' 2023 is looking for film projects that capture aspects of Tibetan cultural practices that are observed and seen in the present day. The selected filmmakers will each receive a grant of INR 2,00,000/- to kickstart their projects. TDS is included.
The project aims to introduce and document in depth the significance, symbolism, and foundation of Tibet's social, religious, and traditional practises, such as life-long prayer ceremonies. The project aims to present all aspects of a living culture that they experience and observe in their daily lives, including the background of cultural ceremonies and practises that are otherwise not seen by the audience.
Eligibility is the participating filmmakers must own Green Book and have made their most recent Green Book contribution. Applicants who have not previously received LCDF grants will be given priority consideration. Equal gender representation will be prioritised among grant recipients and film subjects. Women filmmakers are encouraged to apply in particular.
The filmmaker must be a resident of one of India's or Nepal's Tibetan settlements. Each participating filmmaker must submit one recommendation letter based on their previous work.
Application and Evaluation Procedures: Registration: Interested candidates should submit an application for the grant by January 26, 2023. Interested filmmakers should submit a synopsis for their proposed documentary film (100-120 words). Document prerequisites: A certified copy of the duly paid Green Book.
The films will be screened/published on Tibet TV media platforms, with Tibet TV retaining all rights.
Read the complete details here.
Edited & Collated by Team TRC