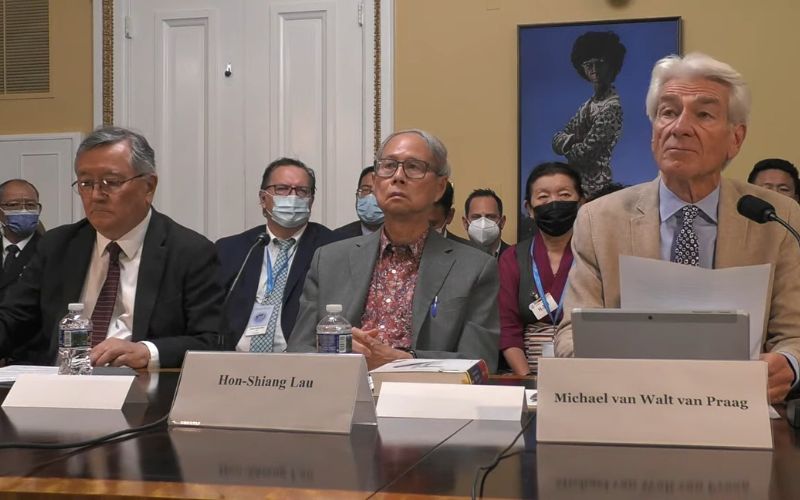 'Tibet was historically not a part of China' : Dr. Michael van Walt van Praag
Washington DC : In a WrittenTestimony for Congressional-Executive Commission on China hearing 'Tibet: Barriers to Settling an Unresolved Conflict", on June 23, 2022, eminent scholar and author Dr. Michael van Walt van Praag remarked that contrary to what the People's Republic of China claims and to what many people take for granted, Tibet was historically not a part of China.
"Addressing the plight of the Tibetan people has been one of my lifelong goals, and my contributions have mostly been in the international legal and diplomacy spheres, in line with my career. I undertook this academic historical research to get to the bottom of what informs the PRC government and the Dalai Lama in their opposing views on Tibet's historical status, with the aim to be able to come up with strategies for those with access and clout to encourage the parties to break through the stalemate and resume their dialogue", read the statement.
"Because Tibet was not at any point in time a part of China, the PRC's military invasion of Tibet in 1950/51 constituted an act of aggression and violated the peremptory norm of international law prohibiting the acquisition of territory by the use of force against another state.4 This informs the legitimacy of the PRC's presence in and rule of Tibet the past seven decades: China does not have sovereignty over Tibet. It is occupying Tibet illegally", added the author of two books on the current status of Tibet.
Michael van Walt van Praag is executive president of Kreddha, a conflict resolution organization, and senior fellow at the Institute for Social Sciences, University of California at Davis, an international jurist. His book Tibet Brief 20/20 is a wakeup call that establishes a link between China's current expansionism and the international community's misguided appeasement on Tibet. The book maintains that many states are today not only acting contrary to their international legal obligations by treating Tibet as China's internal affair, beyond their purview; they are also enabling China's aggressive behavior and blunt display of entitlement. Our governments, the authors argue, must urgently course correct, and not only in order to do right by the Tibetans.
Read the complete statement here.
By Team TRC