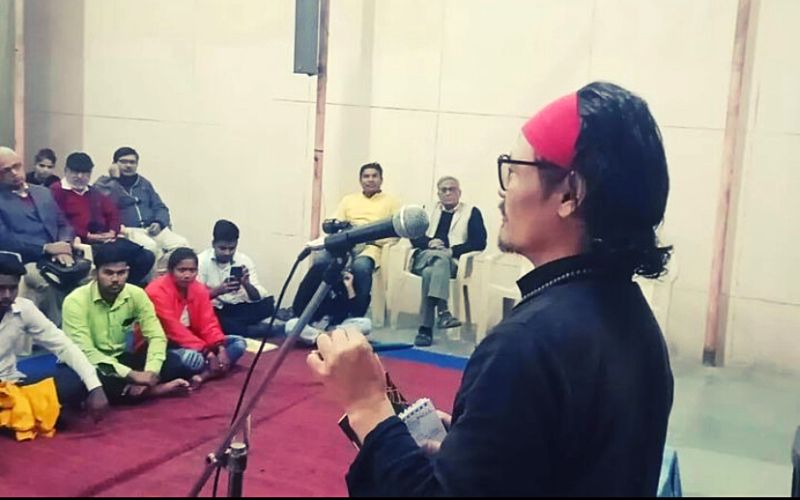 Tibetan activist Tsundue speaks about Tibet in Allahabad
On November 23 2022, Tenzin Tsundue, a Tibetan activist, was invited to Allahabad by the Institute for Social Democracy to deliver the Khursheed Smriti Memorial Lecture at the Swaraj Vidyapeeth. Tsundue talked on HOME AND EXILE wherein he talked about the ongoing Chinese brutal occupation of Tibet and the Tibetan resistance since 1949.
Allahabad or Prayagraj is the sangam or the grand culmination of the two most iconic rivers of North India - river Ganga and Yamuna. This is also the town where the legendary Indian freedom fighter Chandra Shekhar Azad laid down his life for India.
"There are a lot of Tibetan refugees selling sweaters in Allahabad. We paid a visit there. Tashi Dorjee, president of the association, told the story of their winter sweater business.", stated Tenzin Tsundue.
Tenzin Tsundue is an activist and poet who is also a Tibetan refugee. For his activism, Indian authorities have placed him in preventive custody, arrested him, or imprisoned him 16 times since 2019.He went to Tibet at the age of 22. However, he was arrested and sent back to India, "they told me I was born in India and so I did not belong to Tibet.
He travelled across Himalayan states to keep the flag of 'Free Tibet' flying. He launched a four-month voyage through the Himalayas beginning in August 2021; his purpose was to highlight a greedy, expansionist power – China – and its designs for world domination. Tsundue's campaign – Walking the Himalayas is his latest spot of activism for a free and independent Tibet.
In 2001, for his work "My Kind of Exile," he won the first-ever Outlook-Picador Award for Non-Fiction. He has written four books, all of which have been translated into multiple languages: Tsen-göl, Crossing the Border (1999), Kora (2002), and Semshook (2007).
Edited & Collated by Team TRC