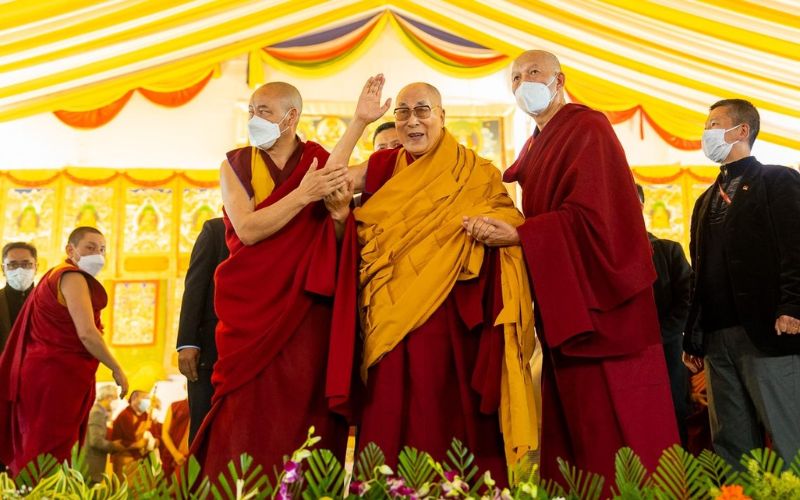 Tibetan Buddhist tradition is becoming more popular around the world: His Holiness the Dalai Lama
The three-day programme on Buddha's teachings at Kalachakra Ground in Bihar's Bodh Gaya concluded with the Tibetan spiritual leader His Holiness the Dalai Lama wishing Buddhists around the world a Happy New Year. Thousands of devotees attended the event, offering special prayers to the Tibetan spiritual leader and wishing him a long life.
On Sunday, the Dalai Lama noted China's "growing interest in Buddhism" following years of "suppression and oppression" of the faith and its adherents.
His Holiness was speaking to devotees in Bodh Gaya, the site where the Buddha attained Enlightenment two millennia ago, following a "long life offering" ceremony, a traditional prayer made for the 87-year-old Buddhist leader's longevity.
His Holiness said, "the Buddhist tradition of Tibet has gained lots of attention from people in the West. In the past, Buddhism was known to be an Asian religion. But today its philosophy and concepts, particularly with regard to psychology have spread throughout the world. Many scientists are taking interest in this tradition".
"So, this is not only for Tibet, but even China. It has a direct bearing on China as well because China has been a Buddhist country but there was so much suppression and oppression of Buddhism and Buddhists in China", said the Tibetan Spiritual leader, who had to flee his homeland in 1959, a decade after Mao Zedong's communist revolution.
"As a result, there may be significant changes in China and around the world. I have always believed in the possibility of a better world "He went on to say.
"When I travel through the trans-Himalayan regions, I encounter locals who are devoted to Buddha dharma. It's the same in Mongolia and China, though the system (Chinese government) regards dharma as poison and attempts to destroy it without success "Dalai Lama stated. "The Chinese government harmed Buddhism, but it could not be eradicated from China. Even today, there are many Buddhist adherents in China "He continued.
"Tibet, also known as the Land of Snows, has seen many tragedies. However, it has turned out to be a blessing in disguise. People all over the world are becoming more aware of the Tibetan Buddhist tradition ", noted the Dalai Lama.
"It is a coincidence that this ceremony, where prayers are made for my long life, is taking place on the first day of the Gregorian calendar. So, this is in a way an indication that we may be looking at good times ahead", added the renowned leader.
Edited & Collated by Team TRC