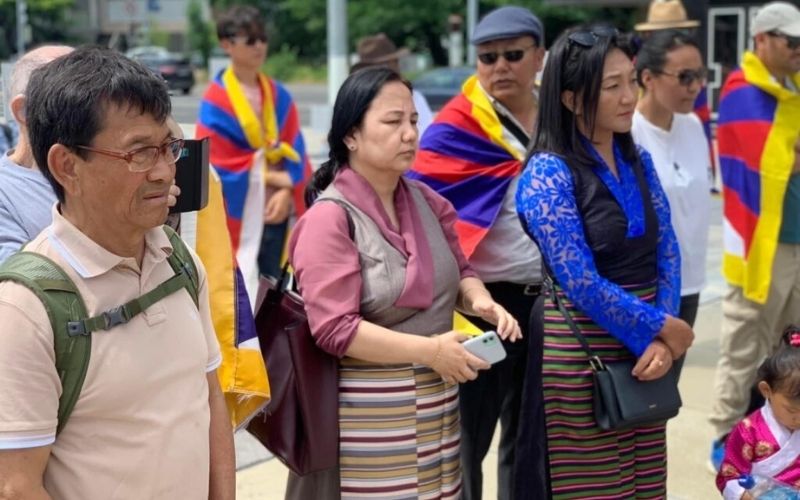 Tibetan Community in Geneva marks 71 years of duress signing of "17-point Agreement"
Geneva: Marking 71 years of duress signing of so-called 17-point agreement on Tibet, Tibetan community in Geneva organized a protest in front of the UN human rights council building on 23 May 2022.
Members of the community gathered in front of the UN Human Rights Council building with banners calling China to end persecution against Tibetans and displayed placards in protest against continued illegal occupation of Tibet.
While addressing the gathering, co-responsible for the French speaking section of Swiss- Tibetan Friendship Association, Mr. René Longet adored the peaceful and non-violent resistance of Tibetan people in face of brutal oppression by the Chinese government.
For 71 years of Chinese political repression and policy of eradication of Tibetan culture and identity, it is time to recall history of Tibet and renew commitment to stand up for freedom in Tibet and Tibetan people's inalienable rights and dignity in their ancestral land, said René Longet.
it is "no surprise" that the Chinese authorities systematically violated the terms of the so-called agreement, added René Longet. While ensuring the continued attention on the situation in Tibet and support for the pledge of Tibetan people, René Longet said friendship developed with the Tibetan people have let people of Switzerland to know the situation in Tibet under Chinese occupation, invaluable contribution of Tibetan culture and the functioning of legitimate democratic representation of Tibetan people.
On behalf of the Tibet Bureau Geneva, Kalden Tsomo addressed the gathering. Speaking at the event, she said, in 1951 China forced Tibetan delegates to sign under duress the so-called 17-Point Agreement. Immediately after coming into exile in 1959, His Holiness the Dalai Lama issued a proclamation in the Indian town of Tezpur, repudiating the 17-Point Agreement. The so-called agreement has been employed as a tool to justify PRC's claims over its rule in Tibet.
Adding further, Kalden said, for about eight years, from 1951 to 1959, Tibetan government in Lhasa under the leadership of His Holiness the 14th Dalai Lama sought ever possible means to arrive at a peaceful settlement between Tibet and China. However, the Chinese government violated the terms of the so-called agreement and carried out a violent suppression of the Tibetan people.
The President of the Tibetan community in Geneva Yonga Tsesutsang read-out the community's statement marking the 71 years of Chinese oppression. Coinciding the day with the arrival of the UN High Commissioner of Human Rights Michelle Bachelet's six-day visits to China, members of the community urged the High Commissioner to put genuine efforts to end Chinese persecution of Tibetan people and mitigate human rights violations in Tibet.
(Information supplied by Tibet.net)
By Team TRC