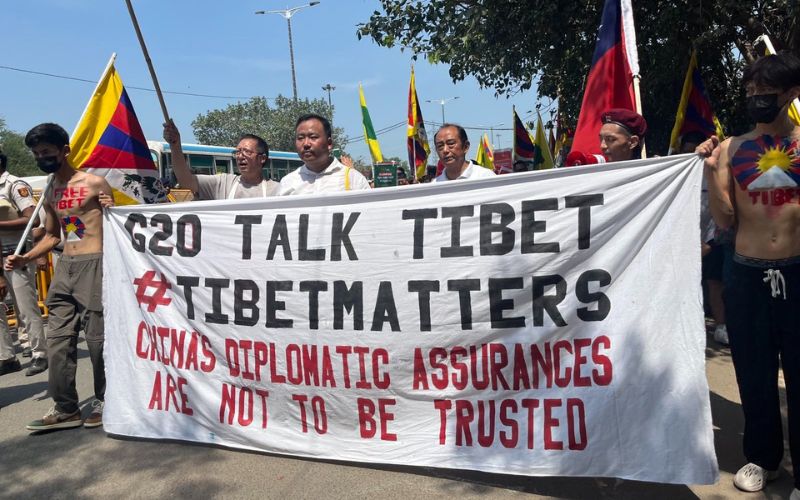 Tibetan Community protests against Chinese Government at Majnu Ka Tilla ahead of G20 Summit
The Tibetan community staged a protest against the Chinese government at Majnu Ka Tilla in North Delhi, a day before the 18th G20 Summit commences in New Delhi. The protest, organized by the Tibetan Youth Congress, aimed to draw attention to China's alleged "illegal occupation of Tibet."
Armed with banners and placards bearing slogans such as 'G20 Talk Tibet,' 'Tibet Matters,' and 'China's diplomatic assurances not to be trusted,' the demonstrators voiced their concerns about Tibet's status.
Tibetan Youth Congress President Gonpo Dhundup emphasized that Tibetans in and around Delhi gathered at the Tibetan Colony, Majnu Ka Tilla, to protest against China's actions. The protestors urged G20 leaders to support their cause and hold China accountable for its actions.
Around 200 Tibetans participated in the protest, which took place from approximately 11:30 am to noon. According to Sagar Singh Kalsi, Deputy Commissioner of Police (DCP) for North Delhi, the demonstration remained peaceful and was dispersed within minutes of its conclusion.
During the protest, the participants sang the Indian national anthem, raised slogans of "Bharat Mata ki Jai" (Hail Mother India), and chanted "Jai Bharat, Jai Tibet" (Hail India, Hail Tibet), according to an unnamed police officer.
In response to the demonstration, security forces were deployed near Majnu Ka Tilla, and barricades were erected to maintain law and order, as reported by news agency PTI.
The 18th G20 Summit is set to take place on September 9 and 10 in New Delhi, with over 25 world leaders, their delegates, and heads of international organizations in attendance. Notably, Chinese President Xi Jinping will not attend the summit, and Premier Li Qiang will represent China instead. This decision comes amid growing tensions in bilateral relations between China and India, primarily over their disputed border.
The strained relations between the two countries escalated in 2020 when clashes along the Line of Actual Control (LAC) in eastern Ladakh resulted in casualties on both sides, further complicating the situation.
As the G20 Summit kicks off in New Delhi, the protest by the Tibetan community serves as a reminder of the various geopolitical issues at play in the region and the international stage
Edited and collated by Team TRC