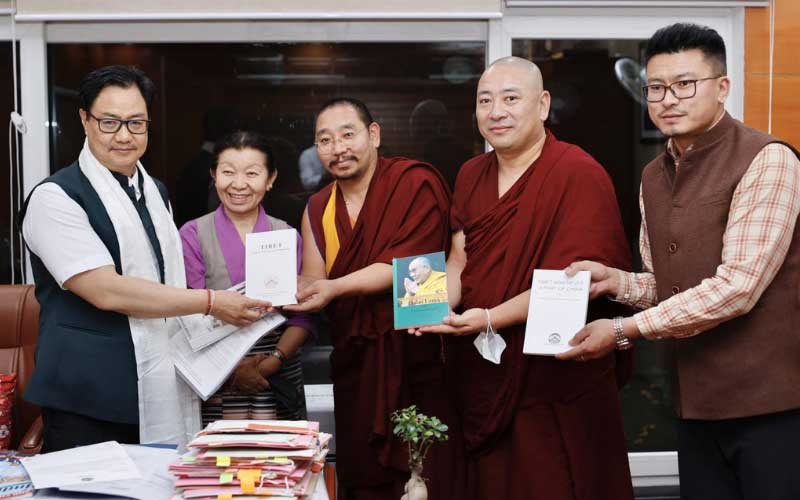 Tibetan delegation raises issue of China's "hydro-hegemony" with Indian Parliamentarians
New Delhi: A Tibetan Parliamentary Delegation has been advocating Tibet's issue here, meeting Indian lawmakers including Ministers and political leaders of various political parties of India. During their interactions with lawmakers from the north-eastern states, the members discussed China's "hydro-hegemony" by controlling waters of cross-border rivers such as the Brahmaputra.
In the meeting with law minister Kiren Rijiju, the Tibetan side reportedly raised the water crisis issue faced by north-eastern states that has its origins in Tibet. "The focus on the north-east is because when we talk about the environmental destruction of the Tibetan plateau, the rivers originating from Tibet are in the hands of China now," Dolma Tsering Teykhang, deputy speaker of the Tibetan parliament-in-exile, told Hindustan Times."China is famous for damming all the rivers. It's not only for hydro-power that they're damming [rivers] but it's like getting hydro-hegemony over all the downstream states and countries," she added.
Arguing that the "tap is in the hand of China", Teykhang remarked, "Whenever they wish a drought, they can just stop the tap. Whenever they wish, they can just let loose the water and spoil all the [crops]. So, many of the parliamentarians from the north-east had so much of concern over the depletion of flow of water in the Brahmaputra or Tsangpo from the Tibet region".
China's acts of increased mining and construction activities and damming have been affecting the Tibetan environment. A team of Tibetan environmentalists had raised the issue of degradation of Tibetan environment and the need to highlight the importance of Tibetan plateau in global climate change debates during COP26 Glasgow Summit in 2021.
By Team TRC
(Information supplied by Hindustan Times)