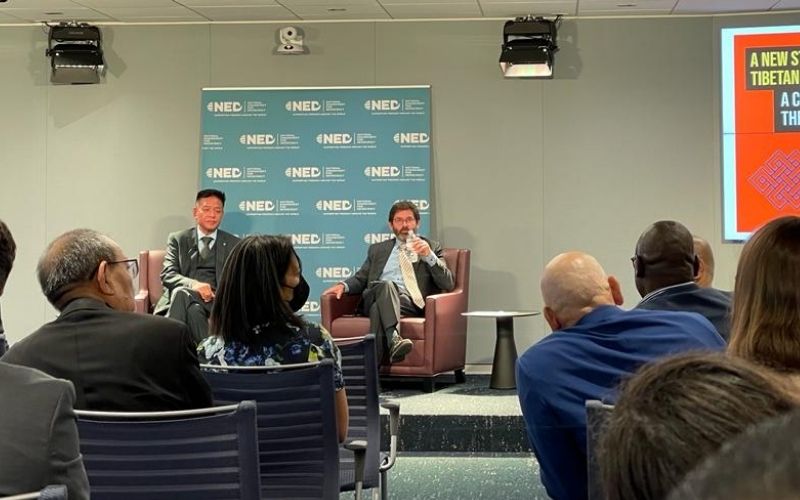 Tibetan democratic polity in exile can serve as a model for other exile democracy movements, says NED President Damon Wilson
Dharamshala: The National Endowment for Democracy (NED) – an independent, non-profit foundation dedicated to the growth and strengthening of democratic institutions around the world, held a conversation with Sikyong Penpa Tsering on 26 April, discussing extensively about the development of democratic administration of the Tibetan exile polity.
In his introductory remarks, NED's president and CEO Damon Wilson lauded Tibetan democracy as introduced by His Holiness the Dalai Lama. He said: "Once in exile, he (H.H Dalai Lama) immediately implemented significant democratic reforms. And today, Sikyong Tsering leads an administration that is a model of thriving democracy in exile
NED, who had earlier hosted and awarded Democracy Service Medal to His Holiness the Dalai Lama, supports Tibetan democracy movement through helping with Human Rights advocacy, supporting international support for Tibetan freedom, and backing a strong exile community rooted firmly in democratic norms and values, according to its president.
Appreciating NED's efforts in promoting democracy in general and supporting the Tibetan democratic movement, Sikyong Penpa Tsering recounted in brief the evolution of Tibetan democracy under the visionary leadership of His Holiness the Dalai Lama.
Sikyong Penpa Tsering also spoke about the parliamentary stalemate that took place during the initial stage of his term as the Sikyong and expressed confidence in the maturity of the democratic administration of the Tibetan people in Dharamshala.
He further assured that regardless of the differences in opinions and ideologies, every Tibetan's commitment to the Tibetan cause remains strong and united despite China's covert interference in dividing Tibetan community in exile.
(Information supplied by Tibet.net)
By Team TRC