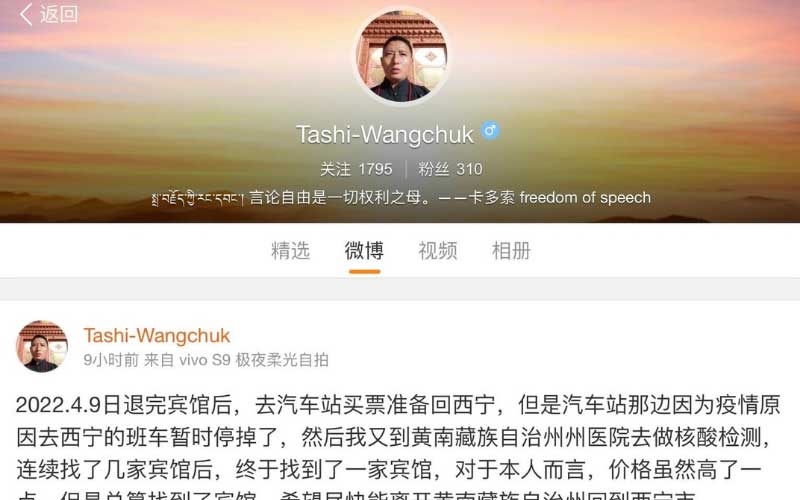 Tibetan language advocate Tashi Wangchuk continues to face harassment : TCHRD
Dharamshala: The Tibetan Centre for Human Rights and Democracy (TCHRD) has expressed concern about the personal liberty and security of Tibetan language advocate Tashi Wangchuk, who was released early last year after completing a five-year prison term.
According to TCHRD, since 10 April, his Weibo account cannot be accessed and attempts to search his account have been met with an automatic response that the "user does not exist". With his account disabled, there is no way to know about the condition and whereabouts of Wangchuk.
"A photo on Wangchuk's Weibo showed Chinese SWAT police, an elite group of officers "trained to deal with emergency situations involving serious crimes and terrorism", entering his hotel room. Wangchuk requested the officers that he be allowed to stay as he would not be able to find another accommodation at such late hours and that he also had the requisite Covid clearance certificate. But the officers claimed that the guesthouse was under observation due to some issues in the past. Wangchuk was eventually forced to leave", reported TCHRD.
TCHRD called on the Chinese authorities particularly the PSB authorities in Rebkong County and Malho Tibetan Autonomous Prefecture to immediately account for Tashi Wangchuk's personal liberty and security.TCHRD also urged the international community including the UN and its human rights mechanisms as well as foreign governments and civil society actors to engage with and pressure the Chinese authorities to uphold their own laws and guarantee the human rights of Tashi Wangchuk.
Read the full statement by TCHRD here.
By Team TRC
(Information supplied by TCHRD)