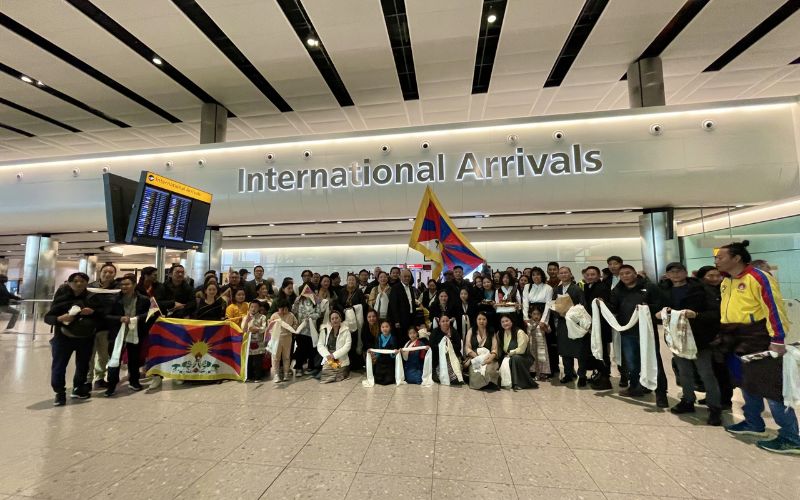 Tibetan leader Sikyong Penpa Tsering visits UK to strengthen support for Tibet cause and urge policy rethink
Sikyong Penpa Tsering, the democratically elected leader of the Tibetan people, has arrived in London for an official visit to the United Kingdom. The visit, which is set to last until 1 May, includes meetings with senior government officials, members of parliament, and civil society organizations, as well as public speaking engagements at various universities and think tanks.
The visit has been welcomed by the Tibetan community in the UK, with Sikyong Penpa Tsering greeted by Representative Sonam Tsering Frasi, Office of Tibet-London, Ven. Kelkhang Rinpoche, Tibetan Community Britain Chairperson Tenzin Kunga, and other members and Tibetans in the UK as he landed at Heathrow Airport on Sunday afternoon.
Sikyong Penpa Tsering virtually addressed the Democracy Forum on the topic of 72 years of Chinese colonial rule in Tibet, with an esteemed panel including Chris Law MP, Co-chair of All Party Parliamentary Group on Tibet, Dr Martin Mills, Director of the Scottish Centre for Himalayan Research, and Prof. Dibyesh Anand, head of School of Social Sciences and Professor of International Relations at the University of Westminster.
London-based NGO The Democracy Forum held a virtual debate on Monday titled "Seventy-two years of Chinese colonial rule in Tibet," where a panel of experts discussed China's policy of forcing state hegemony on Tibetans. The webinar coincided with a visit to the UK by Sikyong Penpa Tsering.
The panel raised concerns about China's policy of forcing state hegemony on the region's indigenous population. Tibetans face a denial of religious freedom and displacement of their cultural identity. The panel also assessed the impact of China's modernization of Tibet and the extent to which Western governments have been indifferent to the plight of Tibetans.
Penpa Tsering said that the Tibetan movement is still strong, and while the world may not hear much about Tibet these days, the people of Hong Kong, and the Uyghurs in Xinjiang are also facing oppression by China. He noted that China's desire to be responsible for the reincarnated Dalai Lama has led to many young Tibetans self-immolating in protest, hoping that the international community will come to their aid.
The Democracy Forum President Lord Bruce described the situation in Tibet as a political system that has evolved over 70 years and continues to exert control over the lives of 6.7 million indigenous Tibetan people, despite being incompatible with the universally accepted language of human and civil rights. He cited a recent Freedom in the World Report that identified Tibet as the least free country on Earth. Tibet ranks worse than North Korea and shares the bottom spot with South Sudan and Syria.
"Wonderful first meeting with @aliciakearns, Chair of the UK Parliament's Foreign Affairs Committee. In our open discussion, I urged that the UK must rethink its Tibet policy. Thank you for your commitment to support Tibet & look forward to strengthening the Tibet cause in the UK", Tweeted Sikyong Penpa Tsering in his official Twitter handle.
Furthurmore, Sikyong Tweeted "It was a pleasure meeting Hon. MP @CatherineWest1, even though our encounter was brief. I look forward to meeting you again and hope our discussions in regard to Tibet and our shared interests and values will continue".
Sikyong Penpa Tsering's visit marks his second official trip to the UK, following his first visit in January 2023, where he addressed the Oxford Union Society on the Sino-Tibetan conflict. The visit aims to strengthen the Tibet cause in the UK and urge the country to rethink its Tibet policy. The Sikyong's itinerary includes engagements with various parliamentary committee groups, including foreign affairs, human rights, and freedom of religion, among others.
Edited and collated by Team TRC