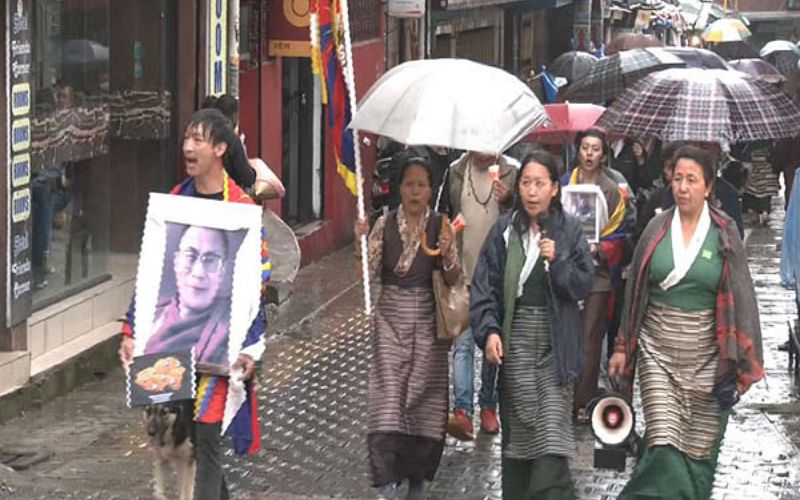 Tibetan NGOs Illuminate Candlelight Vigil in Protest of China`s Treatment of Political Prisoners on International Prisoners Justice Day
On International Prisoners Justice Day, several Tibetan non-governmental organizations (NGOs) united in a poignant display of solidarity and advocacy, as they organized a candlelight vigil to raise awareness about the unjust treatment faced by political prisoners within Tibet, attributed to China's oppressive regime.
The event, arranged by three prominent Tibetan NGOs - Students for Free Tibet India (SFT), Tibetan Women's Association, and the National Democratic Party (NDPT) of Tibet - aimed to highlight the dire situation of countless political prisoners in Tibet. Participants of the candlelight vigil fervently expressed their demands for justice, waving pictures of the revered Tibetan spiritual leader, Dalai Lama, and voicing their call for the immediate release of detainees.
Notably, Tashi Dhondup, President of the National Democratic Party, implored the international community to take action by sending an independent team to inspect the prisons in Tibet. Dhondup revealed an alarming statistic, stating that the number of prisons in the Tibetan Autonomous Region (TAR) had risen to a staggering 79.
In a statement to ANI, Dhondup stressed, "Many people are unaware or have limited knowledge about the prison conditions and detainees within Tibet. Thus, through this candlelight vigil, we are shedding light on the grave issue of prison conditions and the well-being of prisoners in Tibet. We urge the international community to promptly deploy an intervention or inspection team to Tibet, particularly in response to recent reports from former political prisoners who have been recently released. These reports describe appalling conditions, including reports of forced 17-hour workdays and inadequate nourishment."
Tenzin Passang, National Director of Students for Free Tibet India, further articulated the purpose of the vigil. She stated, "Through this candlelight vigil, we seek to commemorate the sacrifices made by Tibetan freedom fighters and advocate for justice on behalf of the political prisoners who have suffered egregious violations of human rights and freedoms in Tibet."
Passang expanded on the current situation in Tibet, characterizing it as an "open prison." She highlighted the pervasive surveillance, restrictions, and erosion of Tibetan culture and identity under ongoing scrutiny. The vigil also stood as an act of solidarity with Lobsang Tenpa, a victim of China's oppressive policies. Tenpa was imprisoned for four years on the allegation of participating in a peaceful protest. Despite enduring cruel torture during his incarceration, he tragically passed away on August 3rd.
The collective efforts of these Tibetan NGOs through the candlelight vigil underscored their commitment to raising awareness about the plight of political prisoners in Tibet and pushing for meaningful international intervention to address the dire conditions faced by detainees. In their unwavering pursuit of justice, these activists continue to advocate for the rights and freedoms of all those affected by China's actions in Tibet.
Edited and collated by Team TRC