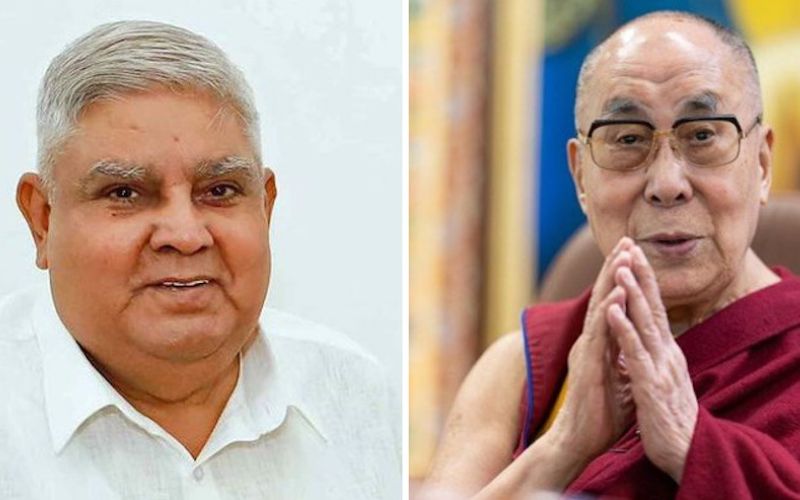 Tibetan officials congratulate Jagdeep Dhankhar, the incoming vice president of India
In a letter sent to Jagdeep Dhankhar, His Holiness the Dalai Lama expressed his congratulations on his election as India's 14th vice president. "India has taken great strides in many fields, especially in science and technology. As someone who has lived here for most of my life, I consider myself very much part of Indian society. It is auspicious that you are taking up this august position on the occasion of the 75th anniversary of India's independence," the Dalai Lama wrote in a letter.
The Nobel Laureate, who is now in Ladakh, continued, "From a purely secular and academic standpoint, I believe that it is very necessary to infuse the study of India's old knowledge into modern educational systems. India is ideally situated to integrate these two critical knowledge bases. I am aware that these initiatives have started in a few states, and I sincerely hope that they spread throughout the country.
Reports also stated that the Speaker of the Tibetan Parliament in Exile, Khenpo Sonam Tenphel also extended his congratulations to Jagdeep Dhankar for becoming the 14th Vice-President of the Indian republic. "I would like to express my heartfelt congratulation to you, on behalf of the entire Tibetan people and the Tibetan Parliament-in-Exile on winning the Vice President election," he wrote, wishing him best for new future endeavors that his government will undertake.
"The people and the government of India have consistently supported the Tibetans and non-violent struggle of Tibet for which we are very grateful. India is the second home to the Tibetans for more than six decades and we remain indebted for the kindness and support provided by India," the Speaker further remarked to highlight the continuous support by the Indian government for the Tibetan cause.
(Information Supplied by Phayul)
By Team TRC