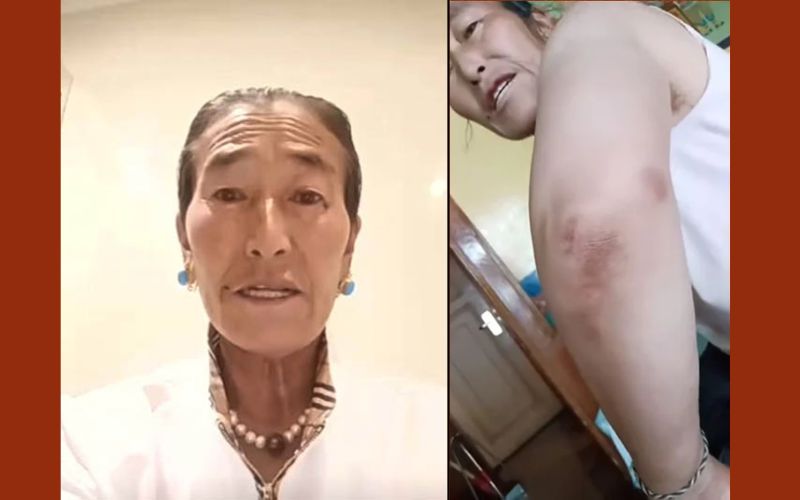 Tibetan Woman exposes Chinese Police brutality in Video Amidst wrongful imprisonment case
Gonpo Kyi, the courageous sister of wrongfully imprisoned Tibetan businessman Dorjee Tashi, has become a symbol of resistance against police brutality in Tibet. The shocking incident occurred on August 1, 2023, when Gonpo attempted to visit her incarcerated brother at Drapchi Prison, also known as Tibet Autonomous Region Prison No.1.
The International Campaign for Tibet obtained video clips that revealed the distressing encounter. Instead of granting permission for the visit, the authorities accused Gonpo of illegal activity, which led to a violent confrontation. Chinese Police officers used physical force, manhandling her by pushing and pulling, leaving visible bruises on her arms as evidence of the excessive aggression.
Dorjee Tashi's case is emblematic of the ongoing human rights abuses in Tibet. Corrupt leaders in the region unjustly labeled him a "secessionist" simply because he refused to comply with their financial demands. Despite having no political involvement, he was falsely charged with "loan fraud" and sentenced to life imprisonment with the deprivation of political rights for life in July 2010.
The international community has taken notice of Dorjee Tashi's arbitrary detention, with both the European Union and the United States condemning his imprisonment. During the 51st session of the UN Human Rights Council in September-October 2022, the EU called for his immediate and unconditional release, and the United States highlighted his case in its annual human rights reports for 2021 and 2022.
Gonpo and her family have been relentless advocates for justice for her brother, resorting to public protests after their peaceful efforts yielded no results over the past decade. Her determination to fight for her brother's freedom serves as a poignant reminder of the plight faced by many Tibetans who experience human rights violations.
Edited and collated by Team TRC