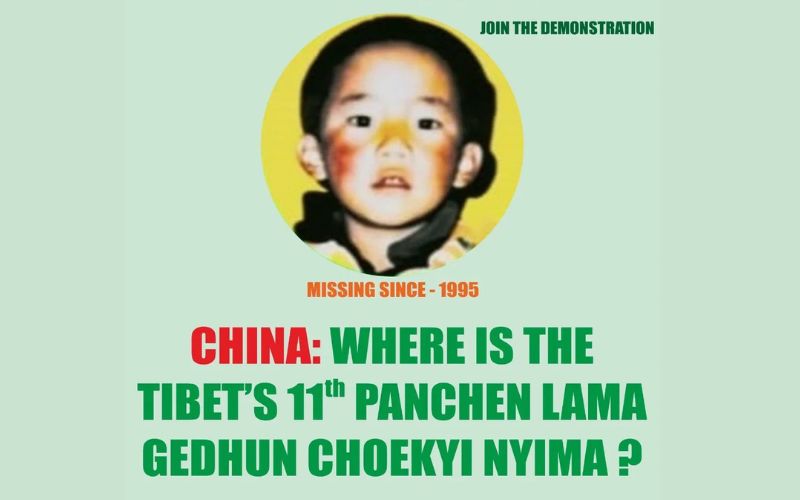 Tibetan Women Association Organizes Peaceful Protest, Demands Release of 11th Panchen Lama
The Tibetan Women Association (TWA) has announced plans to organize a demonstration at Jantar Mantar in Delhi on 17 May 2023, demanding the immediate release of the 11th Panchen Lama, Gendhun Choekyi Nyima. The TWA's demonstration aims to draw attention to the disappearance of the Panchen Lama and advocate for his freedom.
The TWA, a prominent advocacy group working for the rights of Tibetan women, has been actively campaigning for the release of Gendhun Choekyi Nyima, who is recognized by the Tibetan community as the rightful spiritual leader. The Panchen Lama is an important figure in Tibetan Buddhism, serving as the second-highest-ranking religious leader after the Dalai Lama.
Gendhun Choekyi Nyima, who was recognized by the Dalai Lama as the 11th Panchen Lama in 1995 at the age of six, was taken into custody by the Chinese government shortly after his recognition. Since then, his whereabouts have remained unknown, leading to concerns about his well-being and calls for his release.
Since his disappearance in 1995, there has been limited information about the well-being and whereabouts of Gendhun Choekyi Nyima, who would now be in his early thirties. The Chinese government appointed another child, Gyaltsen Norbu, as their own candidate for the Panchen Lama, which was met with skepticism and opposition from the Tibetan community.
The TWA's demonstration at Jantar Mantar aims to shed light on the plight of Gendhun Choekyi Nyima and to demand his immediate release. Tibetan women and supporters will gather to express their concerns and call for international attention to this ongoing issue. The protest will be a peaceful demonstration, with participants raising banners, chanting slogans, and sharing stories of the Panchen Lama's disappearance.
The TWA hopes that the peace demonstration will generate awareness and solidarity among the international community, urging governments and human rights organizations to exert pressure on China to reveal the whereabouts and well-being of the 11th Panchen Lama. They believe that the release of Gendhun Choekyi Nyima would be a significant step towards safeguarding the religious and cultural rights of the Tibetan people.
The TWA's demonstration at Jantar Mantar comes as part of a broader effort by Tibetan advocacy groups to advocate for the rights of Tibetan people, preserve their cultural heritage, and raise awareness about human rights violations in Tibet.
Edited and collated by Team TRC