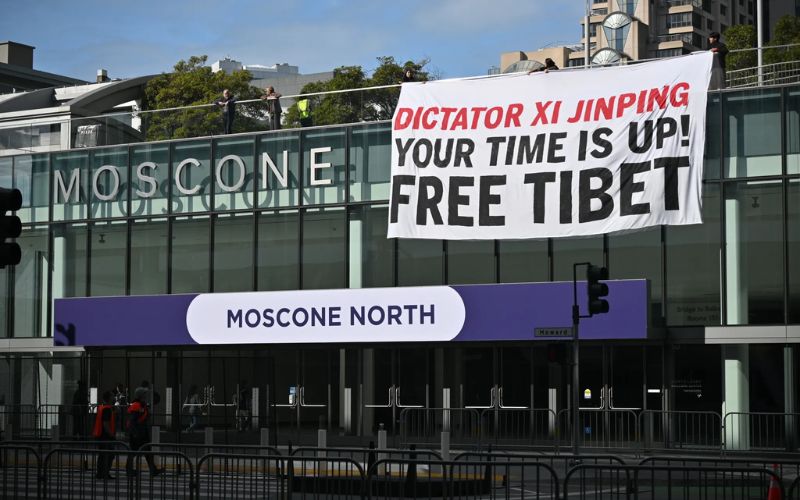 Tibetan Youth Activists Hang Anti-China Banner Outside Moscone Center Ahead of APEC Summit
Activists from Students for a Free Tibet unfurled a banner from the roof of Moscone Center on Friday, denouncing Chinese President Xi Jinping as a "dictator" ahead of the Asia-Pacific Economic Cooperation (APEC) summit. The banner read: "Dictator Xi Jinping, Your Time is Up! Free Tibet."
The activists were able to access the roof of the Moscone Center via a publicly accessible pedestrian walkway. They hung the banner for approximately two minutes before taking it down on their own accord. No arrests were made.
Tenzin Namgyal, a 17-year-old Tibetan-American activist who was part of the protest, said that the group is hoping President Biden will speak out against Tibetan assimilation.
"Since China's President Xi last visited the U.S., Tibetans have witnessed our language, religion and culture come under direct attack from Xi's genocidal policies and we are facing the elimination of our distinct Tibetan language, culture and identity, if the world doesn't act," Namgyal said.
The APEC summit, which begins on Saturday, will bring together Xi, President Joe Biden, and leaders from other countries, including Canada, Japan, South Korea, and Australia. Protests and demonstrations are expected throughout the summit, which is expected to draw tens of thousands of people to San Francisco.
The Secret Service is imposing a security zone around Moscone Center starting Saturday, limiting pedestrian and vehicular traffic in the area. Some traffic and lane closures are expected ahead of and during the installation of barricades.
Students for a Free Tibet advocates for Tibet's independence from China, arguing that the region has historically been an independent country. China maintains that Tibet is an inalienable part of its territory.
.Edited and collated by Team TRC