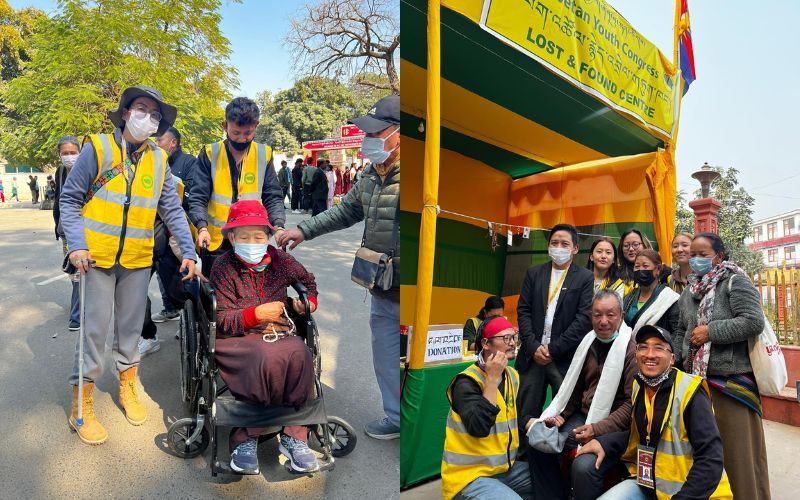 Tibetan Youth Congress provides help to devotees in Bodh Gaya
Tibetan Youth Congress (TYC) based in Dharamshala is carrying out social service campaign during teachings of His Holiness the Dalai Lama in Bodhgaya. TYC providing all the necessary help to all the devotees whenever required.
His Holiness the Dalai Lama arrived in Bodhgaya, Bihar, India for a four week visit on December 22, 2022. His Holiness will give three days of teaching on the mornings of December 29, 30 & 31 at the Kalachakra Teaching Ground. On December 29 & 30 mornings, His Holiness will give teachings on Nagarjuna's Commentary on Bodhicitta (jangchup semdrel). On December 31 morning His Holiness will confer the Blessing of 21 Tara (dolma 21 jenang).
On December 22, Tibetan Youth Congress social service volunteers welcomed His Holiness the 14th Dalai Lama to Bodhgaya for his teaching, which will take place from December 29 to December 31, 2022.
On December 26, volunteers from the Tibetan Youth Congress performed a heart-warming act by reuniting a 77-year-old Pa Sangpo la from Mustang, Nepal, with his families. He had been missing from the Bodh Gaya Bus Station for the previous 36 hours, following a successful search by Tibetan Youth Congress volunteers.
Tibetan Youth Congress volunteers are also guiding and assisting devotees at Gaya's railway station and bus station, particularly the elderly. They offer wheelchairs to elderly people who have difficulty walking.
The Tibetan Youth Congress (TYC) is a worldwide Organisation of Tibetans united in our common struggle for the restoration of complete independence for the whole of Tibet, which includes the tradition three provinces of U-Tsang, Do-toe, and Do-med. An independent Organisation, with a written constitution and its own plans and programmes, TYC has emerged as the largest and most active non-governmental Organisation of Tibetans in exile. It has more than 30,000 members worldwide.
Edited & Collated by Team TRC