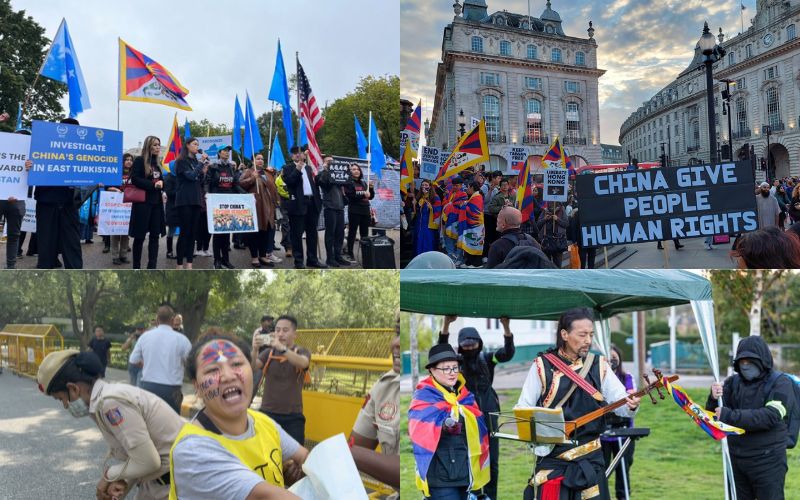 Tibetans all over the world stage protests on China's National Day
New Delhi: Anger that has been building for a long time came out on 01 October, when the Tibetan men and women all around the globe protested outside their respective Chinese Embassies on People Republic of China's National Day, calling for the restoration of Tibet's Independence.
73 Tibetan protesters from the Tibetan Youth Congress (TYC) were taken into custody by police in India's capital New Delhi on 01 October, as they protested at the Chinese embassy on China's National Day. The protesters were stated to be set to be released later in the day.
The number of protesters apparently symbolized 73 years of the existence of the People's Republic of China founded by the Communist Party of China in 1949. The protesters were stopped and shoved into police buses when they were about 100 steps from reaching the Chinese embassy, reported the Voice of America.
The protesters came from different regional chapters of the TYC which campaigns for the restoration of Tibet's independence, in contrast with the exile Tibetan administration's stand of seeking genuine autonomy under Chinese rule.
Carrying Tibetan national flags and placards, the protesters shouted slogans such as "What we want – We want freedom," "Stop human rights violations in Tibet," "Free Tibet," noted the ANI news.
"We demand that Tibet be freed and the Government of India support us with this demand. China needs to be stopped. Mass collection of DNA, killings must be halted," one of the protesters was quoted as saying.
Apart from India, Tibetans in London held protest at Piccadilly Circus. Protesters marched from Piccadilly Circus towards the Chinese Embassy on 01 Oct.
A group of Hong Kongers based in the Washington, DC, launched Global Day of Action to Resist China Freedom Now rally to counter PRC National Day. 100 community members including Tibetans, Uyghurs and Hongkongers protested in front of the White House to persist and resist CCP regime to take concrete actions to support their struggles.
Tibetan community in Edinburgh, capital city of Scotland in Severe rain showcased some traditional Tibetan music during gathering outside the Chinese Consulate to protest CCP tyranny and celebrate solidarity, resistance, and Human Rights on 01 October. Supporters came together and raised voices as one against China's oppression.
Edited & Collated by Team TRC