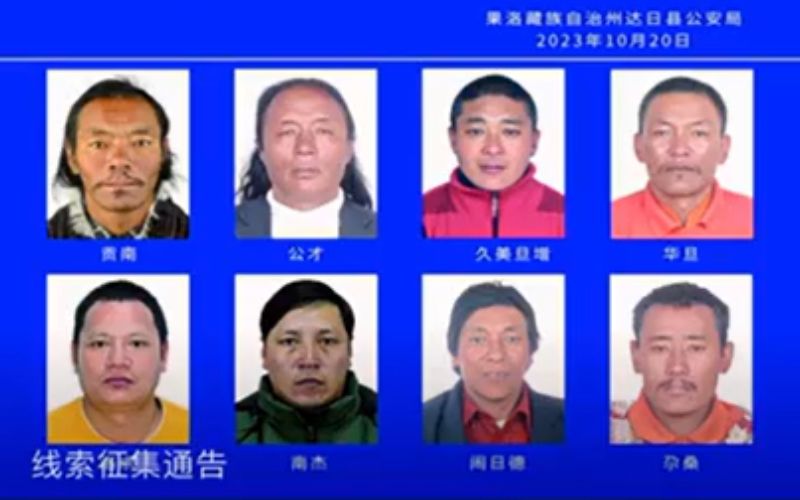 Tibetans detained for collecting donations for religious offerings in Darlak County, Police offer rewards for information
Darlak County police detained eight Tibetans on October 20, 2023, on charges of "creating a criminal organization," "picking quarrel and provoking trouble," and "extortion and blackmail." These arrests followed allegations that the individuals were involved in collecting donations for religious offerings, reported Tibet Watch.
The detainees, identified as Gonnam, Gontse, Jigme Tenzin, Palden, Lochoe, Namgayl, Nordue, and Kalsang are residents of Gyime Township in Darlak County, Golog Tibetan Autonomous Prefecture, Qinghai Province.
The accusations against them are related to their collection of funds for religious offerings, a practice common in Tibetan culture and spirituality. However, the local authorities have chosen to interpret their actions as constituting criminal behavior, leading to their detention.
In response to the detainment of these individuals, Darlak County police issued a notice on the same day through their official social media account. The notice calls upon local Tibetans to come forward with any information related to the group of detainees or other suspected "criminal organizations." It offers a reward to individuals who provide valuable information in accordance with relevant regulations. At the same time, it cautions that those who withhold such information may face severe punishment.
The detention of these Tibetans has raised concerns among human rights organizations and advocates for religious freedom. The charges and arrests appear arbitrary, reflecting an ongoing tension between the authorities and the Tibetan community in the region.
This incident highlights the need for a closer examination of the relationship between local authorities and the Tibetan population in Darlak County, particularly in cases where religious and cultural practices come into conflict with official interpretations of the law. The situation is expected to draw further attention from both domestic and international observers.
Edited and collated by Team TRC