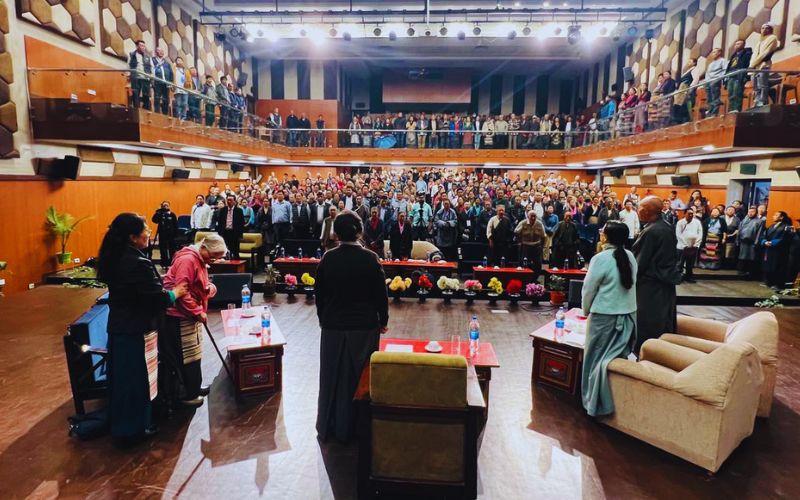 Tibetans Rally for Urgent Charter Amendment to Appoint Justice Commissioners in 17th TPiE Appeal
Nearly 500 Tibetans from various corners of the world assembled at the Tibetan Institute of Performing Arts (TIPA) in Dharamshala on September 18, voicing their demands for crucial amendments to the Tibetan Charter. This mass gathering, operating under the banner of "Advocacy of the General Public Appeal to the 17th Tibetan Parliament in Exile," staged a press conference to urge parliamentarians to take action that would facilitate the appointment of the Chief Justice Commissioner of the Chief Justice Commission, the paramount judicial institution of the Tibetan exile government.
The event, attended by approximately 500 individuals hailing from 25 Tibetan settlements in India, as well as seven other locations across the globe, including Nepal and abroad, saw attendees spanning diverse age groups, with some participants as old as 90.
Former Kalon Rinchen Khando graced the gathering as the chief guest, joined by former Tibetan lawmakers who lent their support to the cause.
In her impassioned address, Teyang, President of the advocacy group, lamented the persistent deadlock that has impeded the appointment of the Chief Justice Commissioner. She emphasized that the protest's primary objective is to restore the integrity of Tibetan democracy, urging lawmakers to take action to prevent further erosion of its principles.
Tsetan Phuntsok, a member of the executive committee of the advocacy group, delivered a plea to the Speaker, Deputy Speaker, and other parliamentarians, stating, "We appeal to the Speaker, the Deputy Speaker, and the parliamentarians to pass a resolution for amendments in the Charter that will allow the appointment of the Chief Justice Commissioner. We are determined to hold our demonstration for as long as it requires while abiding by local rules non-violently until the issue is resolved."
The appointment of the vacant position of the Chief Justice Commissioner has faced multiple unsuccessful attempts at amendment within the parliament. The ongoing impasse, if left unresolved, threatens to have far-reaching consequences for future leadership within the Tibetan exile government, potentially rendering their ascension to positions of authority legally untenable.
The parliament session scheduled from September 19 to 29 will be closely watched as Tibetans both within and outside the country anxiously await a resolution to this critical issue that affects the heart of their democratic processes.
Edited and collated by Team TRC