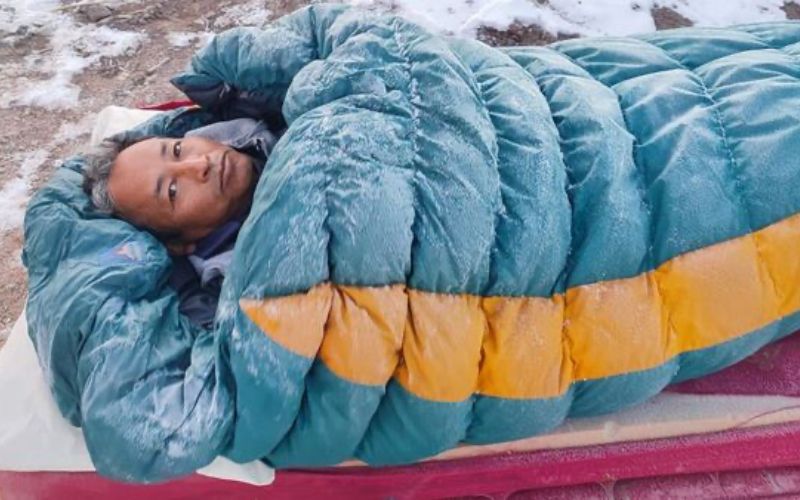 Tibetans in Exile express solidarity with climate activist Sonam Wangchuk
Tibetans, Ladakhis, and local Indians gathered in Dharamshala's Mcleod Ganj Square to show their support for climate activist Sonam Wangchuk's ongoing fast for Climate Change under the leadership of Tenzin Tsundue, the Tibetan writer and activist. On 23 January, Wangchuk sent an SOS to PM Modi, appealing to the prime minister to take action since "all is not well in Ladakh".
Sonam Wangchuk, an engineer-innovator began a five-day climate fast in Ladakh on January 26. He had previously stated that he would sit on a five-day Climate Fast at the 18,000-foot-high Khardungla pass, where the temperature is -40°C. He also stated that because the roads to Khardungla are closed due to heavy snowfall, he is fasting from HIAL. However, he later clarified that he is under house arrest and that the UT administration has restricted his fast to the HAIL campus and that he is not permitted to climb Khardung La, citing threats to his life and so on.
Ladakh is critical from a military standpoint, having played a role in the Kargil and other conflicts. Wangchuk expresses concern about the possibility of corporate expansion in the union territory, which is expected to exacerbate the already severe scarcity of resources such as water. Glaciers may melt as a result of mining and other similar activities.
He explained in the video, "As he mentions the 6th Schedule and protests related to it, Ladakh, also known as the "third pole" of the earth, is dealing with serious issues. Locals have been calling for Ladakh to be included in the 6th Schedule in order to promote total economic development and decision-making autonomy. The subject has previously been raised in Parliament."
For the 6th Schedule to apply, the Constitution requires that 50 percent of a region's population be tribal. Ladakh, with over 95% of its population being tribal, was expected to be added soon, Wangchuk says in the video. Wangchuk added that Arjun Munda, the Minister of Tribal Affairs, has also provided assurances.
Wangchuk said in the 13-minute video that the people of Ladakh are perplexed as to why the government, which has listened to their 70-year-old demand for a union region, is not paying attention to this demand. Wangchuk previously stated that in order to address issues such as climate change, people must change their lifestyles rather than contribute money to the world. In December, he used recent events in the northern mountainous region, such as flash floods, to demonstrate the effects of climate change and claimed that people in major cities around the world are to blame for these changes.
Edited & Collated by Team TRC