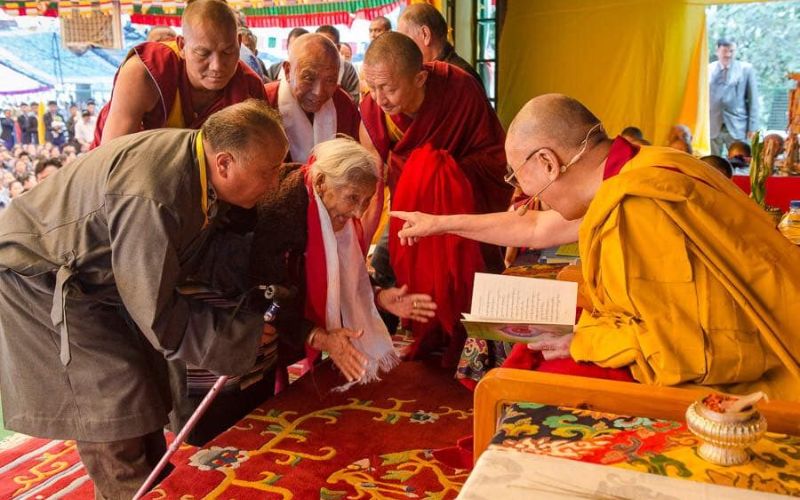 Tibetans in Exile Mourns the Passing of Ama Pema Choedon la, an Inspirational Figure and Foster Mother
On September 15, 2023, the Tibetan Children's Village (TCV) and the entire Tibetan exile community lost a beloved figure, Ama Pema Choedon la, who passed away at the age of 98. Ama Pema Choedon la was born in Lhodrak, Tibet, in 1925, and her life's journey was marked by unwavering dedication and service to her fellow Tibetans.
Ama Pema Choedon la's remarkable journey began in 1960 when she joined the TCV Nursery shortly after coming into exile as a refugee. This marked the inception of her lifelong commitment to nurturing and caring for the younger generation of Tibetan exiles. She was one of the few remaining Tibetans who had witnessed the challenges and triumphs of the Tibetan diaspora from its early days.
For nearly three decades, from 1960 to 1988, Ama Pema la served as the Foster Mother of Home 9 at the Upper TCV School, where she played a pivotal role in providing care, guidance, and support to the students under her care. Her selfless dedication during the most challenging years of the Tibetan exile struggle left an indelible mark on the hearts of those she cared for and the entire TCV community.
In 1988, after retiring from her role as a foster mother, Ama Pema la continued to reside in the Upper TCV Old Age Home. Her presence remained a source of inspiration and wisdom for the younger generations of Tibetans, who revered her as a symbol of resilience and compassion.
The Tibetan Children's Village (TCV) family, deeply saddened by the loss, extends heartfelt condolences to Ama Pema Choedon la's immediate family and all those who held her dear. Her passing leaves a void that can never be filled, but her legacy of selflessness and dedication will continue to guide and inspire generations to come.
On the evening of September 16, TCV staff members gathered to pay their last ritual offerings and conducted a monlam prayer for the late Amala. They prayed for her swift and auspicious rebirth as a human being and as a Tibetan, believing that her spirit will continue to watch over and guide her people.
As Ama Pema Choedon la embarks on her spiritual journey, the entire Tibetan exile community joins together to bid her farewell with the prayer, "May her soul rest in peace (RIP), "Om Mani Pedme Hum" expressing their hopes for her peaceful journey in the afterlife and her swift return to them.
Edited and collated by Team TRC