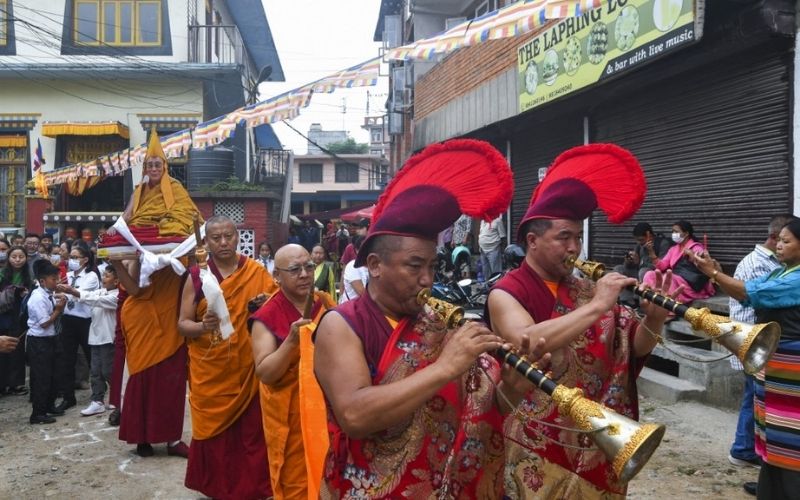 Tibetans in Nepal mark His Holiness the Dalai Lama's 87th birthday despite Chinese Surveillance
Kathmandu: According to reports, Tibetans in Nepal bucked tight Chinese security and online surveillance to honor the 87th birthday of exiled spiritual leader His Holiness the 14th Dalai Lama with incense and picnics.
"Despite Chinese authorities' clampdown on celebrations of His Holiness the Dalai Lama's 87th birthday, Tibetans inside Tibet are finding ways to observe the anniversary, either covertly or openly" said a Tibetan in the region who spoke on condition of anonymity for security reasons.
"On July 6th Many Tibetans are making Sangso incense smoke offerings on the top of hills in their respective areas, and Tibetans are also commemorating the day by holding picnics at other places," said the source.
In Nepal, which borders Tibet, the government permitted a two-hour celebration of the Dalai Lama's 87th birthday at the Jawalakhel Tibetan Settlement, a 60-year-old facility near the capital Kathmandu that is home to more than 1,000 Tibetans. "It took more than two hours to complete the celebrations with the presence of many Western embassy dignitaries," said a local Tibetan who attended the celebration.
Local media reported that diplomats from the embassies of France, the EU, Japan, and the United States were among the foreign guests at the settlement center.
"This year the Nepali government granted permission and a large number of Tibetans showed up to celebrate the occasion," the local source said.
Despite the intensifying security this year, "there are Tibetans inside Tibet, who write essays and articles in praise of His Holiness the Dalai Lama on the occasion," the source said. The articles "are widely read and shared on social media," he added.
Chinese authorities in the Himalayan region made everyone attend meetings to warn Tibetans not to share any kinds of photos and telling them that their cellphones will be checked for banned content, another source said.
Last year RFA reported the arrests of 20-30 Tibetans around the time of the Dalai Lama's 86th birthday. But there has been no word of detentions or arrests this year.
Information supplied by Radio Free Asia
By Team TRC