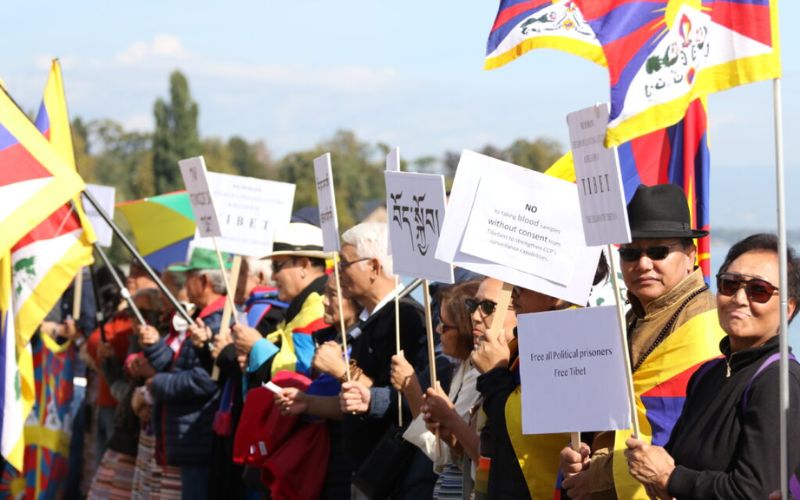 Tibetans in Switzerland & Liechtenstein demand UN to pay attention to Tibet's deteriorating Human rights Situation
Source: Tibet.net
Geneva: Tibetan Community of Switzerland & Liechtenstein held a peaceful demonstration in front of the Office of the High Commissioner of Human Rights on Friday, 23 September 2022. The protest was held alongside the ongoing 51st session of the UN Human Rights Council.
Members of the Community, holding the Tibetan National flags and placards, raised slogans demanding the United Nations to pay attention to Tibet's deteriorating human rights situation. The demonstrators also shouted slogans calling China to "End Torture" "End Genocide" and "Release all Political Prisoners" in Tibet. The Community also submitted an appeal letter calling the newly appointed High Commissioner for Human Rights Volker Türk to heed the voices of Tibetan people.
While addressing the gathering, Representative Thinlay Chukki acknowledged and thanked the community members for shouldering the responsibility in speaking-up for Tibetans who are suppressed and silenced by the Chinese Communist Party. She appealed to the community members to nurture the upcoming Tibetan generation in a way that would encourage and enable every single Tibetans to contribute and take active role in advancing the just cause of Tibet. Referring to the former High Commissioner for Human Rights Michelle Bachelet's silence on Tibet, Representative Thinlay said "the silence has been interpreted as not taking the overall responsibility" to protect the human rights across the world, in particular for Tibet.
The President of the Central Tibetan Youth Congress Gonpo Dhundup, President of Central Tibetan Women Association Tenzing Dolma and Senior Researcher from Tibet Watch Wangden Kyab took part in the demonstration as well.
The President of the Tibetan Community Karma Choekyi and UN Advocacy Officer of the Tibet Bureau Kalden Tsomo submitted an appeal letter to the Office of High Commissioner for Human Rights addressed to the newly appointed High Commissioner Volker Türk. Congratulating the High Commissioner on his appointment as the new High Commissioner, the Tibetan community urged him to "defend the rights of Tibetans in Tibet" and "heed the voices of Tibetan people".
In the appeal letter, the community explained the deteriorating situation in Tibet, in particular, deprivation of basic health amenities and misuse of China's so-called "Zero-COVID" measures in Tibet. Tibetans in Tibet are "double chained" where access to basic health facilities is denied and non-infected Tibetans are reportedly forced to stay in "Service-less" quarantine centers along with infected patients, said in the appeal letter.
The Tibetan community also expressed concern over suppression and Sinicization of Tibetan culture, religion and language by China.
Edited & Collated by Team TRC