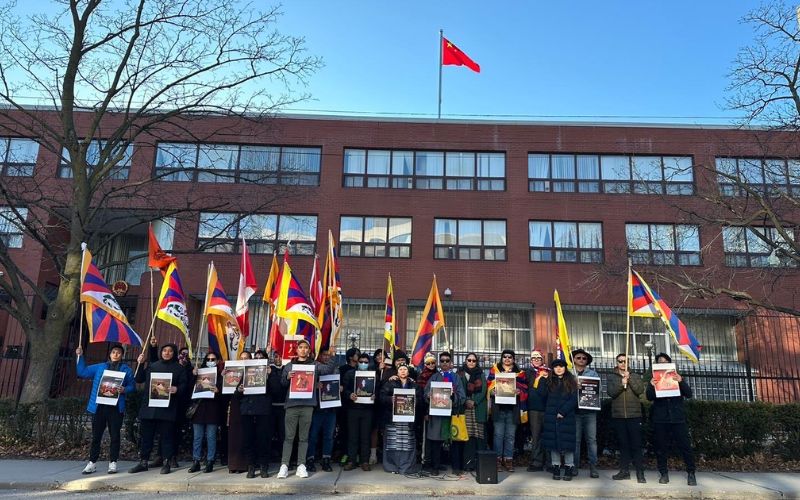 Tibetans in Toronto celebrate 110th anniversary of Tibetan Independence Day
On February 12th, Tibetans in Toronto marked a milestone history by commemorating the 110th anniversary of Tibetan Independence Day. In a show of solidarity, a car rally was organized from Little Tibet to the Chinese Consulate, led by the Regional Tibetan Youth Congress of Toronto, Canada Chushi Gangrdruk, and Students for Free Tibet Canada.
The event was also attended by the CTC's executive director Sherap Therchin, who delivered a powerful speech highlighting the significance of this day. Upon arrival at the Chinese Consulate, participants demonstrated before returning to Little Tibet to celebrate with music, dance, and cake-cutting. The celebrations will continue on February 13th, at the Tibetan Canadian Cultural Center, where Tibetan youths will participate in a talk program and discussion on Tibetan history, the national anthem, and other symbols that represent their independence.
The key people involved in organizing the event are Sunny Sonam from Regional Tibetan Youth Congress, Pasang Lhamo from Canada Chushi Gangdruk, and Tenzin Lhawang from Students for Free Tibet Canada. Tibetan activist Tsewang Dhondup, also known as Pawo (brave), attended the ceremony event. Pawo was shot twice by the Chinese police during the 2008 Beijing Olympic protest in Tibet.
On 13 February 1913, the 13th Dalai Lama Thubten Gyatso issued five-point proclamation, declaring Tibet's independence. In the proclamation he called on his people to guard Tibet's independence, as well as Tibet's religion & culture.
Since the Chinese invasion of Tibet in 1951, Tibetans have been living in exile across the globe and continue to raise their voice against the ruthless and aggressive communist regime. Tibetans, dwelling in exile since 1959, observe the 110th anniversary of a 'free' and 'independent Tibet, on February 13, there is a need to counter false claims of the Communist Party of China.
Edited and collated by Team TRC