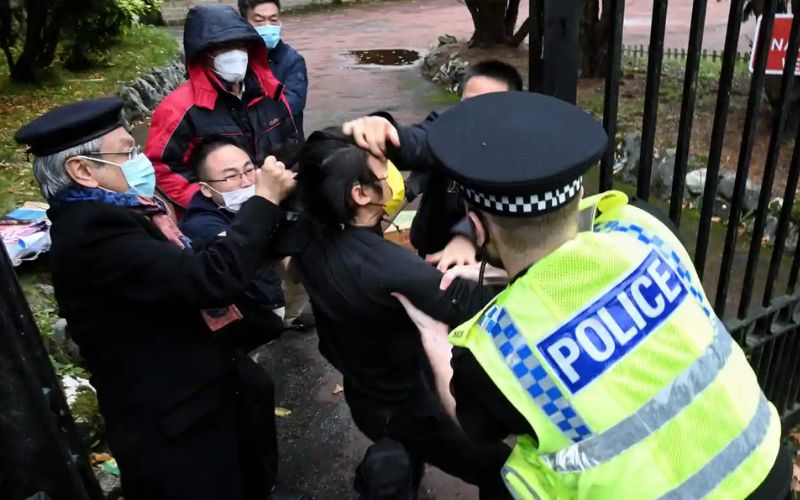 Tibetans in UK condemn brutal attack by Chinese diplomat on peaceful demonstrators
Source: Free Tibet
One of China's most senior diplomats in the United Kingdom was involved in the violence against pro-democracy protesters at the Manchester consulate, a British MP has said.
The protester, who has been named only as Bob, was admitted to hospital overnight for treatment of his injuries, which included cuts below his eye.
Tibetans in UK condemn Chinese consulate staff's violent attack on peaceful protesters and called UK Government to hold those responsible. A peaceful Hong Kong protester was pulled inside the Chinese consulate gate and beaten by Chinese consulate staff in Manchester, UK.
"Tibetans, Uyghurs and Hong Kongers living under CCP rule have virtually no ability to express themselves. The UK government must protect everyone living here from the brutal dictatorship that occupies our homelands and ensure that the CCP's transnational aggression is not allowed to take root here", said Tenzin Kunga, Chair of Tibetan Community in Britain.
"Those on the receiving end of this Chinese government thuggery are legal residents in the UK, and in many cases are British citizens. Our government must not allow the dictatorship of another nation to enact its repression against our citizens and on our soil. The Home Secretary, Suella Braverman, must publicly condemn these actions and expel those responsible", noted Sam Walton, CEO of Free Tibet.
"It's so vital that everyone suffering Xi Jinping CCP repression stand together to fight for freedom", tweeted Benedict Rogers, Chief Executive/cofounder of Hong Kong Watch.
"We stand in solidarity with him as well as with all those who were only peacefully exercising their free and legal right to protest here in the United Kingdom. Unlike in China, here in the UK we value the freedom to express dissent and this outrageous incident cannot go unaddressed by the UK government and those responsible cannot be allowed to hide behind diplomatic immunity", on statement issued by Free Tibet.
Alicia Kearns, a Conservative MP, told the House of Commons that Beijing's consul general in Manchester, Zheng Xiyuan, was seen "ripping down posters" before a Hong Kong campaigner was attacked on Sunday.
Footage posted online shows a person, believed to be Zheng, who is a veteran Chinese Communist party (CCP) official, kicking down a poster and pulling the hair of a protester, who was then dragged inside the consulate grounds and beaten.
Greater Manchester police said on Monday that men linked to the consulate dragged the protester through its gates by force, before attacking him violently. "Shortly before 4pm a small group of men came out of the building and a man was dragged into the consulate grounds and assaulted," the police statement said.
Edited & Collated by Team TRC