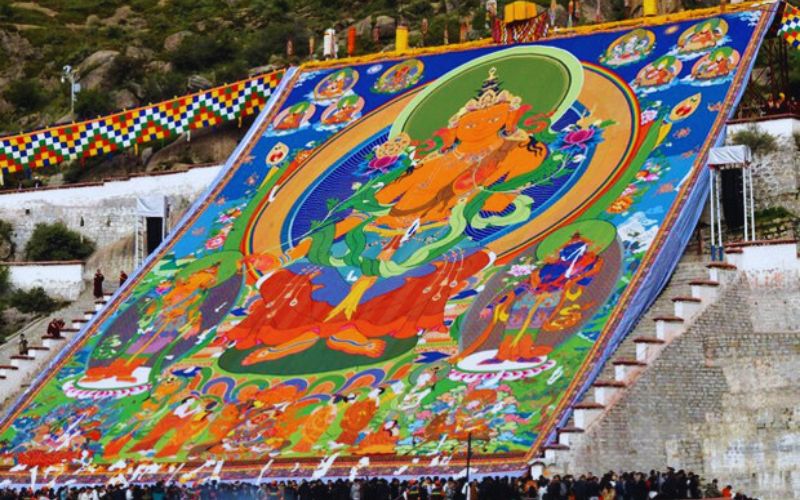 Tibets beloved annual yogurt festival was spoiled by a heavy police presence RFA
According to sources in China's western region, this year's centuries-old yogurt celebration in Tibet has been ruined by a large police presence and harsh restrictions on Tibetans.
Yoghurt holds an important role in Tibetan culture and religion. It has a long history in Tibet, having been made from yak milk rather than cow milk.
The festival, which spans from August 16 to 22, is one of the most popular in Tibet. It began in the 17th century as a commemoration in which Tibetans distributed yogurt to Buddhist monks who had completed their annual religious retreats.
Tibetan Buddhists saw a 500-square-meter (5,382-square-meter) embroidered thangka painting of the Buddha presented at Drepung Monastery in Lhasa, and afterwards at Sera Monastery, according to accounts.
However, a huge number of Chinese police officers observed the gathering and set up inspection stations throughout the streets of Lhasa to check worshippers' identity cards during the celebrations, according to reports.
The increased surveillance comes at a time when Chinese authorities are tightening their hold on Tibet, banning Tibetans' political activities and peaceful expression of cultural and religious identity.
Along with religious observances, the event includes traditional Tibetan opera performances, ethnic songs and dances, cultural exhibitions, and picnics.
In addition, an official instruction prohibits government employees in Lhasa from attending religious activities related to the festival or participating in any rallies, as well as engaging in actions that undermine China's communist government.
Religious activity and visits to local monasteries are also prohibited for government retirees. According to the guideline, they must teach their children to be loyal to the Chinese Communist Party and to cherish its socialist ideas.