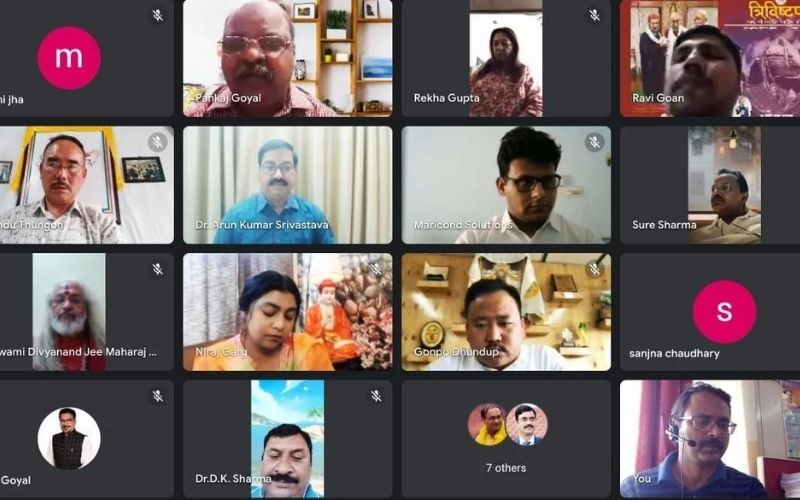 International webinar to commemorate the 33rd Birth anniversary of the 11th Panchen Lama held
Delhi: An international webinar was organised by Bharat Tibbat Sahyog Manch (BTSM) to commemorate the 33rd birth anniversary of 11th Panchen Lama of Tibet, Gedhun Choekyi Nyima on Sunday, 24 April 2022. For the last 23 years, Bharat Tibbat Sahyog Manch under the guidance of Honourable Indresh Kumar, Varisht Pracharak and National Executive Member of RSS; and under the leadership of BTSM National General Secretary Shri Pankaj Goyal, is working determinedly for the liberation of Tibet and Kailash Mansarovar.
Dr. Sachin Srivastava, a member of the BTSM National Executive Committee, and Dr. Ravi Gond, co-convener of the Tibet Public Awareness Campaign, hosted the webinar. The session began with a Tibetan Buddhist prayer, followed by the announcement of the Bharat Tibbat Sahyog Manch's motto. Swami Dr. Divyanand Maharaj, BTSM National Vice President, presided over the webinar, and Smt. Munni Jha, BTSM National General Secretary, Women's Department, welcomed all attendees.
Shri Pankaj Goyal was present as one the distinguished speakers during the webinar. He said in his statement that "After the death of the 10th Panchen Lama, His Holiness the 14th Dalai Lama on 14 May 1995 recognised Gedhun Choekyi Nyima (born 25 April 1989) as the reincarnation of the 10th Panchen Lama. Exactly three days later, on 17 May 1995, 11th Panchen Lama and his family went missing and the Chinese government installed another boy in his place which is unfortunate. 11th Panchen Lama is the youngest political prisoner in the world. My best wishes to the 11th Panchen Lama recognised by His Holiness the Dalai Lama on his 33rd birthday. Wherever you are, stay healthy and live long is my best hope. I pray to God Shankar that Panchen Lama is release from the Chinese custody at the earliest."
Dr. Arun Kumar Srivastava, a historian and Tibet expert, was the second notable speaker. He said in his address that "In the absence of the real 11th Panchen Lama, the fake Panchen Lama of China is sure to be Maoist, so there is no doubt that China will make every effort to adversely affect the selection process of the next Dalai Lama. They will make every effort in time to eliminate the claims of exiled Tibetans using their fake Panchen Lama."
(Information Supplied by Tibet.net)
By Team TRC