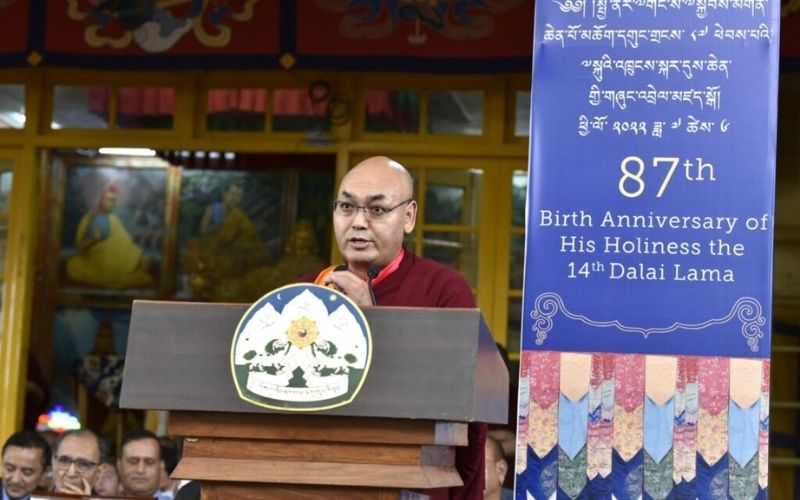 TPiE issues statement on His Holiness the Dalai Lama's 87th birthday

Tibet Parliament in Exile has issued a statement on the occasion of His Holiness the 14th Dalai Lama's 87th Birthday.
Today, the 7th day of the 5th month in the Water-Tiger Tibetan Royal Year 2149, which falls in the 17th Tibetan Royal Sexantry, and which corresponds to the 6th day of July 2022, is a momentous day of utmost auspiciousness. This day marks the birth in 1935 of His Holiness the Great 14th Dalai Lama; the ultimate refuge without equal of all sentient beings that include the beings in the heavenly realms; the master of the entire corpus of Buddhist teachings extant on this earth; the destined deity of all sentient beings of the Snow land of Tibet in whichever part of the plateau region they may have scattered to flower; the miracle emanation of the lotus-holding, most exalted bodhisattva in the form of a Buddhist monk who is in full perseverance to observe His sacred vows as such; the spiritual lord of the three world realms; a great champion of peace in this world; and the unsurpassable leader and guiding light of the entire people of Tibet. With a prior offering of prostrations to His Holiness on this most auspicious occasion, on the behalf of the Tibetan Parliamnet in exile offered him a congratulatory greetings with heartfelt feelings of devotion, reverence, and gratification.
It was for the sake of all sentient beings in general, but especially on account of the connections of karma and aspiration with the devotees in the Snow land of Tibet that His Holiness turned His focus on this world to make His appearance in it. It was thus that His Holiness was born on the 6th day of July 1935 in the Royal Wood-Hog Year at Taktser as a son to His father Choekyong Tsering and mother Dekyi Tsering in the Domey region of Tibet. He thus made His visually liberating high appearance with sun-like qualities of radiance at that time, His Holiness has now reached the age of 88 by the traditional Tibetan calendar system, and 87 years of age by the universal calendar system.
Read the full statement here.
(Information Supplied by Tibet.Net)
By Team TRC