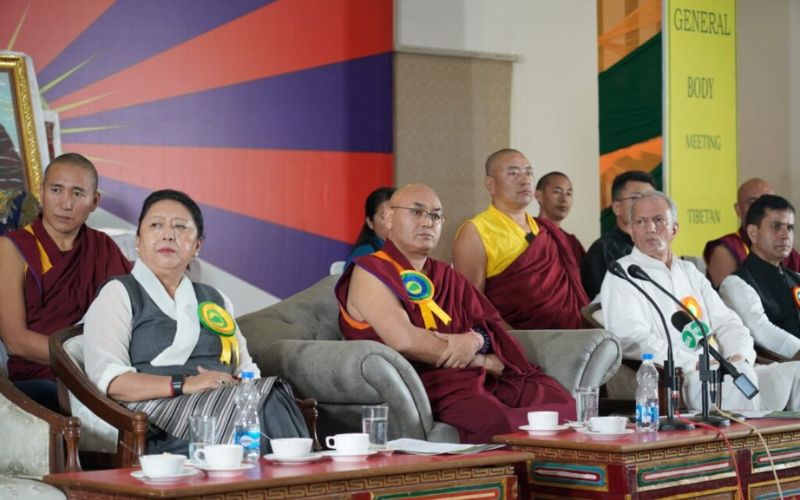 TYC 18th General body meeting in progress in Dharamshala
Dharamshala: Speaker Khenpo Sonam Tenphel led Standing Committee members of the Tibetan Parliament-in-Exile attended the opening of the 18th general body meeting of Tibetan Youth Congress (TYC) held on 27 August 2022 in Dharamshala.
The opening ceremony was attended by Speaker Khenpo Sonam Tenphel as the Chief Guest, and Kalon Gyari Dolma of the Department of Security, CTA; Shri Ajay Singh Mankotia, former President of Indo-Tibetan Friendship Association (ITFA), and Shri Ajit Nehria, President of Dharamshala Indo-Tibetan Friendship Association as special guests. Also in attendance were members of the Standing Committee, heads of the NGOs, and participants of the meeting from 45 regional chapters of Tibetan Youth Congress.
Speaker Khenpo Sonam Tenphel stressed on the need of upholding the momentum of the Tibetan struggle that has been going on for more than six decades. Especially with the current situation of Tibetans in Tibet, he applauded their heroisms, sacrifices, and their well-planned activism like the White Wednesday movement (Lhakhar) and others.
"As His Holiness the Dalai Lama always says that faith and commitment embraced by the Tibetans inside of Tibet has always been consistent and unwavering. Therefore, Tibetans should consider discussing the future trajectory of Tibetan struggle if it should be based on the ideas of Tibetans inside of Tibet or outside of Tibet", he said.
In addition to that, he noted "Even though the situation inside of Tibet is still deteriorating with Tibet's distinct language, culture, and religion getting wiped out due to the Sinicization policies implemented by the Chinese government. Tibetans inside Tibet have the strongest faith in the Central Tibetan Administration and the exiled Tibetans but recently there has been a risk of losing their confidence due to the Tibetans in exile's way of doing. Therefore, he encouraged Tibetans in exile to considerately accept minor disagreements in the community for the good of the larger Tibetan community and the common cause of Tibet. Instead, Tibetans who are led by magnanimous leaders like His Holiness should be working unitedly for the common aspirations and struggle by discussing the few minor disagreements with an open mind."
Read the complete news here.
By Team TRC