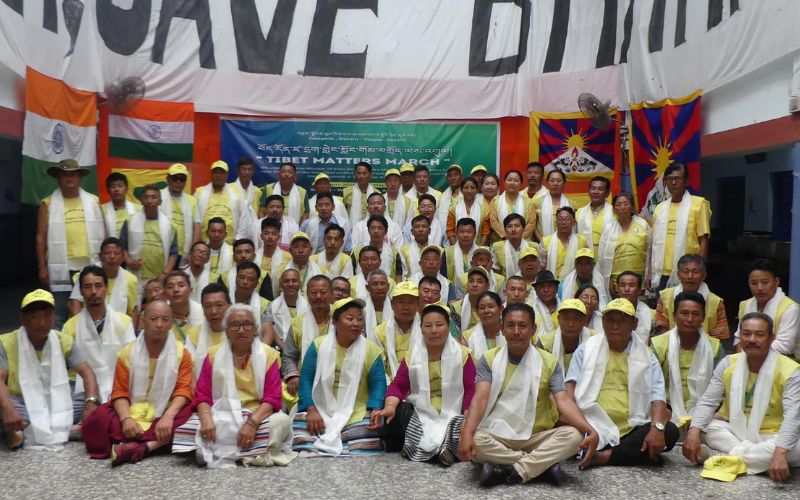 TYC Successfully Concludes Month-Long Tibet Matters March, Making an Impact
The Tibetan Youth Congress (TYC) has achieved a significant milestone with the successful conclusion of their month-long "Tibet Matters March" in Tezpur on May 23, 2023. The event culminated in a conclusion ceremony and a press briefing, marking the end of their dedicated efforts. The conclusion ceremony held in Tezpur served as a platform to reflect on the journey, highlighted the accomplishments, and expressed gratitude to all those who contributed to the cause.
"We purposefully chose the conclusion date of 23rd May. It is one of the worst days in modern political history. It was the day when China forcefully asked to sign a so-called 17-point agreement with the Tibetan delegation. The Tibetan delegation then was given two options- either to sign the agreement on their responsibility or to take a full-fledged war in the Tibetan capital city. On 23 May 1951, a small Tibetan delegation was forced to sign the 'Seventeen-Point Agreement' in Beijing. The agreement legitimized China's invasion of Tibet and took away Tibet's political independence", stated TYC President Gonpo Dhondup in an interview with Tibet Rights Collective (TRC).
As the volunteers of the Tibetan Youth Congress reached Tezpur, they made a powerful statement by unfurling a massive 130ft long and 20ft high banner on the Kolia Bhomora Setu bridge, spanning the Brahmaputra river in Assam. The banner boldly proclaimed the message, "Free Tibet, Safe Brahmaputra," symbolizing the interconnectedness of Tibet's fate with the well-being of the 2 billion people in Asia.
The Tibetan Youth Congress (TYC) organized a month-long Tibet Matters March from Sikkim's Gangtok to Assam's Tezpur. Since it began on April 29, over 80 volunteers from the TYC regional chapters in India and Nepal have joined the march.
The primary aim of the Tibet Matters March was to raise awareness about the human rights situation in Tibet and to promote Tibetan independence. During the Tibet Matters March, TYC activists called for both international leaders and China to take the required measures to settle the Sino-Tibetan dispute. They also called on the G20 leaders to bring up this topic during the summit that will be held in September 2023.
Tibet is currently the least free nation in the world, ranking alongside South Sudan and Syria at the bottom of Freedom House's worldwide freedom rankings after more than 60 years of forcible and unlawful occupation. China's oppressive actions aim to erase the basic identity of Tibetans, including their culture, traditions, and language.
Edited and collated by Team TRC