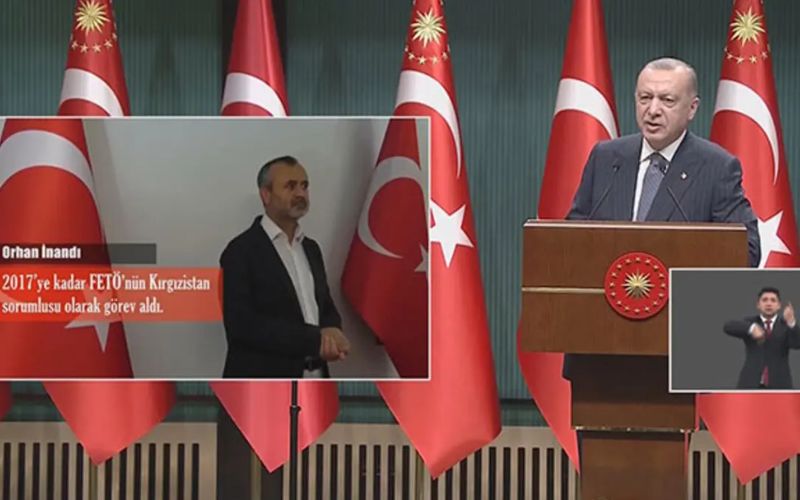 US Senators Introduce Transnational Repression Policy Act to Combat Global Human Rights Abuses
Source: Stockholm Center for Freedom
In a move to combat transnational repression and protect human rights around the world, four members of the US Senate Foreign Relations Committee have introduced the Transnational Repression Policy Act.
The bill was introduced by Democrats Jeff Merkley of Oregon and Ben Cardin of Maryland, and Republicans Marco Rubio of Florida and Bill Hagerty of Tennessee. The act aims to prevent authoritarian governments from impeding human rights abroad and to keep their "long arm" in check.
According to a press release from the office of Senator Merkley, bipartisan and comprehensive legislation would establish a new US policy to hold foreign governments and individuals accountable when they stalk, intimidate or assault people across borders, including in the US.
This bill would require the secretary of state along with other relevant heads of Federal departments and agencies to present a report to Congress on a US strategy to address transnational repression and enhance international awareness of it; instruct the US intelligence community to identify perpetrators of transnational repression and their tools, and share relevant information with like-minded partners; and require the US president submit a list to Congress of foreign individuals who should have sanctions imposed on them because they, knowingly and unknowingly, directly engaged in transnational repression.
"The Transnational Repression Policy Act proposes a number of essential policy reforms to address transnational repression," said Michael J. Abramowitz, president of Freedom House, a rights group that has published several reports revealing tactics of authoritarian leaders to suppress their critics living abroad.
Transnational repression refers to the use of authoritarian tactics, such as harassment, intimidation, and violence, against individuals living outside of their home country. This can include journalists, activists, and dissidents who have fled their home countries to seek refuge elsewhere.
The Transnational Repression Policy Act seeks to address this issue by establishing new tools and resources to hold authoritarian governments accountable. The bill proposes the creation of a task force dedicated to investigating and responding to cases of transnational repression, as well as providing support for victims of such repression.
In a statement announcing the introduction of the bill, Senator Merkley emphasized the importance of protecting human rights and standing up against authoritarianism. "We cannot stand idly by while authoritarian governments attempt to silence dissent and limit the freedom of their citizens both at home and abroad," he said. "The Transnational Repression Policy Act is a critical step towards holding these governments accountable and protecting the rights of individuals around the world."
Since a failed coup attempt in July 2016, the Turkish government has used extralegal means to secure the return of its critics after official extradition requests were denied.
In its most recent annual report, Turkey's National Intelligence Organization (MiT) confirmed that it conducted operations for the forcible return of more than 100 people with alleged links to the Gülen movement.
"... More than 100 [Gülen movement] members from various countries were brought to Turkey as a result of the [agency's] increased operational capacity abroad," MiT's 2022 report stated.
An Stockholm Center for Freedom (SCF) report, released in October, 2021 and titled "Turkey's Transnational Repression: Abduction, Rendition and Forcible Return of ErdoÄŸan Critics," focused on how the Turkish government under President ErdoÄŸan has used extrajudicial and illegal methods for the forcible transfer to Turkey of its citizens abroad.
Another SCF report, "Turkey's Transnational Repression: Abuse of Asset Freezing Mechanisms Under the Pretext of Terrorist Financing," emphasised that decisions by the Turkish government to freeze assets under the pretext of preventing terrorist financing have been weaponized to suppress critics abroad as a further means of Turkey's transnational repression.
SCF shed light on the Turkish government's tactics of abusing INTERPOL to target political opponents who have done nothing more than criticise the government in its report released in August 2021.
The UN Working Group on Arbitrary Detention (WGAD) concluded in several of these cases that the arrest, detention, and forced transfer of Turkish nationals to Turkey were arbitrary and violated international human rights norms and standards.
In an interview with SCF, Dr. Dana Moss, who coined the term "transnational repression," called on the United Nations to appoint a special rapporteur to investigate the practise. "I would like to see the United Nations, the EU human rights arms, bringing more attention to this issue. "Perhaps the UN could appoint a special rapporteur to look into the matter," she suggested.
The bill has already garnered support from human rights organizations, including Human Rights Watch and Amnesty International, who have praised the efforts of the senators in introducing the act.
If passed, the Transnational Repression Policy Act would represent a significant step forward in the fight against transnational repression and the protection of human rights on a global scale.
Edited and collated by Team TRC