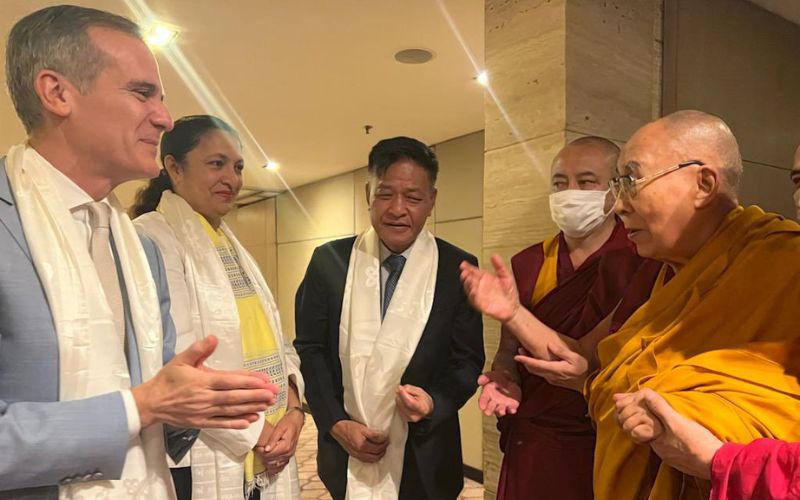 US Special Coordinator for Tibetan Issues Meets Dalai Lama, Triggers Angry Response from China
In a significant diplomatic move, the US Special Coordinator for Tibetan Issues Under Secretary Uzra Zeya, met with His Holiness the Dalai Lama and Tibetan political leader Sikyong Penpa Tsering la on Sunday, 09 July, 2023, in New Delhi, India. This meeting shows powerful symbol of solidarity and commitment to Tibet's cause. However, this meeting has sparked an angry response from China, which vehemently opposed any external interference in Tibetan affairs.
His Holiness the Dalai Lama arrived in Delhi on 08 July from Dharamshala, to visit Leh Ladakh for a month. His Holiness will give 3 days of teachings on the mornings of July 21, 22 & 23 at Shewatsel Teaching Ground near Choglamsar at the request of the Ladakh Buddhist Association and the Ladakh Gonpa Association.
Uzra Zeya, who also holds the position of US Under Secretary for Civilian Security, Democracy, and Human Rights, arrived in India on Sunday for an official visit. Shortly after her arrival in New Delhi, she had the opportunity to meet with the Dalai Lama, alongside other senior US officials.
Last week, Ms. Zeya attended birthday celebrations for the Dalai Lama's 88th birthday, organised by the "Office of Tibet in Washington" as well.
The meeting between Uzra Zeya and the Dalai Lama carries immense significance as it demonstrates the United States' continued support for the Tibetan cause and their concern for human rights and democracy in the region. The Dalai Lama, the exiled spiritual leader of Tibet, is revered worldwide and plays a crucial role in the promotion of peace and compassion.
According to insiders, the discussion at the meeting touched upon various topics, including the present state of affairs in Tibet and China's policies in the region. Among the attendees were Sikyong Penpa Tsering, the leader of the Tibetan administration in exile, Norzin Dolma, the minister of information and international relations, Tencho Gyatso, the president of the International Campaign for Tibet, and other high-ranking Tibetan officials.
The US delegation included Donald Lu, assistant secretary for South and Central Asian affairs. US ambassador Eric Garcetti, and USAID deputy assistant administrator Anjali Kaur.
However, China's response to the meeting was one of anger and opposition. The Chinese government stated that no external forces should interfere in Tibet's internal affairs. China claims Tibet as an integral part of its territory and views any interaction between foreign officials and the Dalai Lama as an infringement upon its sovereignty. In reality, Tibet has maintained its independence as a nation since ancient times, with no historical connection to China. However, in 1949, China's communist regime forcibly took control of Tibet and implemented oppressive governance in the region.
China had expressed similar objections to Ms. Zeya's trip to Dharamshala for a meeting with the Dalai Lama in May 2022. Furthermore, China opposed the establishment of the "special coordinator on Tibetan issues" position by the Biden administration in 2021.
Edited and collated by Team TRC