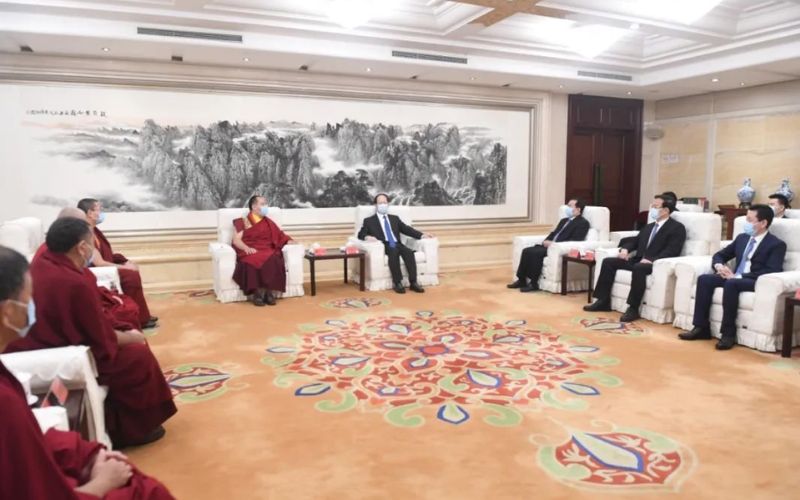 Will actively contribute to aligning Tibetan Buddhism to Chinese context, says China-appointed Panchen Lama
In a meeting with Senior Communist Party of China (CPC) official Shi Taifeng, China elected Panchen Lama has said "he would firmly bear in mind the earnest instructions issued by General Secretary Xi Jinping, conscientiously study and implement the guiding principles of the 20th CPC National Congress, and actively contribute to aligning Tibetan Buddhism to the Chinese context and socialist society". This comes as Tibetans get ready to welcome the Tibetan New Year, Losar on February 21st.
Shi is a member of the Political Bureau of the CPC Central Committee and head of the United Front Work Department of the CPC Central Committee. "Acknowledging the achievements made by Panchen Rinpoche in various aspects, Shi expressed the hope that Panchen Rinpoche can firmly keep in mind the earnest expectations of General Secretary Xi Jinping, and maintain a high degree of unity with the CPC Central Committee with Comrade Xi Jinping at its core ideologically, politically and in action", reported Xinhua.
Shi also reportedly expressed the hope that Panchen Rinpoche can "actively make contributions to safeguarding national unity and ethnic solidarity, and advancing national rejuvenation on all fronts, while delivering new achievements in upholding the principle of developing religions in the Chinese context, and advancing the adaptation of Tibetan Buddhism to the socialist society".
Since his appointment as the 11th Panchen Lama by China in 1995, Gyaltsen Norbu has been presented as the 'face of Tibetans and Tibetan Buddhism'. PRC has been campaigning hard for Norbu; he is now a member of the Standing Committee of the National Committee of the Chinese People's Political Consultative Conference, Vice President of the Buddhist Association of China and President of the Association's Tibet branch. Over the years, Norbu has undertaken numerous domestic and foreign trips as a Chinese puppet and made various speeches to talk about Buddhism, Tibet and China. However, CCP's efforts to gain recognition and acceptance from the Tibetans have largely failed.
After the 10th Panchen Lama's death in 1989, the 14th Dalai Lama Tenzin Gyatso had identified 6-year old Gedhun Choeki Nyima as the 11th Panchen Lama. Subsequently, the People's Liberation Army abducted the 6-year old Lama and his family, with their whereabouts still unknown to this day. Instead, Gyaincain Norbu was recognized as the 'official' 11th Panchen Lama by the Chinese government in 1995 - a move since then decried by His Holiness the 14th Dalai Lama and the Tibetan community alike.
As observed by Tibetan Review, Gyaltsen Norbu gets this reminder about this time each year from a relevant top CPC official. The meeting and comments made on Friday, 17th February need to be looked at as attempts to strengthen CCP's narrative and its false claims over Tibet's history and reincarnation of His Holiness the Fourteenth Dalai Lama.