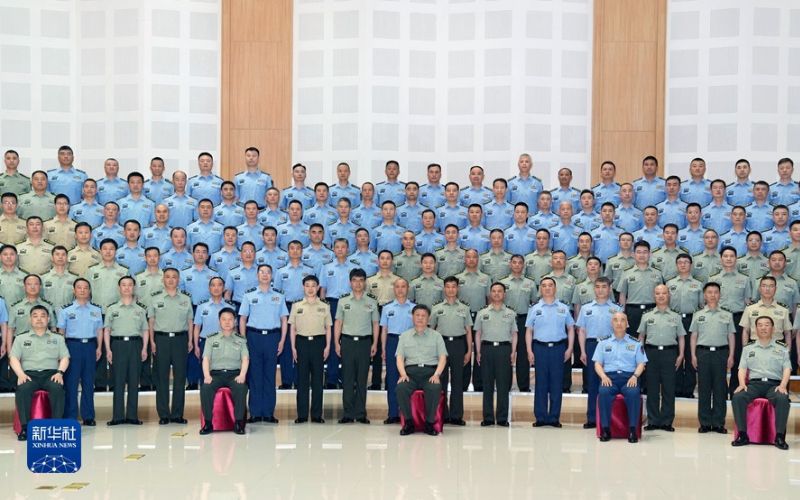 Xi Jinping meets top brass of PLA stationed at Chengdu, the 'nerve centre for PLA activities targeted at Tibet'
Chengdu: Reports suggest that Chinese President Xi Jinping, who was on an inspection tour of Sichuan Province held a meeting with the representatives of military officers stationed in Chengdu, the provincial capital.
"Yesterday, Xi Jinping met the top brass of the PLA stationed at Chengdu, Sichuan. Chengdu has traditionally played a crucial role in PLA's presence in Tibet and Xinjiang. The city acts as the nerve centre for PLA activities targeted at Tibet. Xi was on a visit to Sichuan", tweeted columnist Aadil Brar. He added that Wang Haijiang, who is currently the commander of the Western Theater Command and Li Fengbiao, the political commissar of WTC accompanied Xi during the visit. China's Western Theatre Command oversees the Xinjiang and the Tibet Autonomous Regions, as well as the border with India, making it the largest geographical area under one command in the PLA.
Traditionally, most of Sichuan is a part of undivided Tibet, and has the restive Kham area which is the western part of Tibet (outside TAR). All activities and resistance against China, including self-immolations take place there. Although Lhasa is quite far away, this is the critical and rebellious part of Tibet. A 99-foot statue of Buddha, built with a financial contribution of 40,000,000 Yuan from local Tibetans in Drago County, Kardze Tibetan Autonomous Prefecture, Sichuan Province, was destroyed under the instruction of the local Chinese government in December 2021. 45 huge prayer wheels erected near Drago Monastery were also destroyed and large vertical prayer flags were removed from their staves and burned.
Information supplied by Twitter
By Team TRC