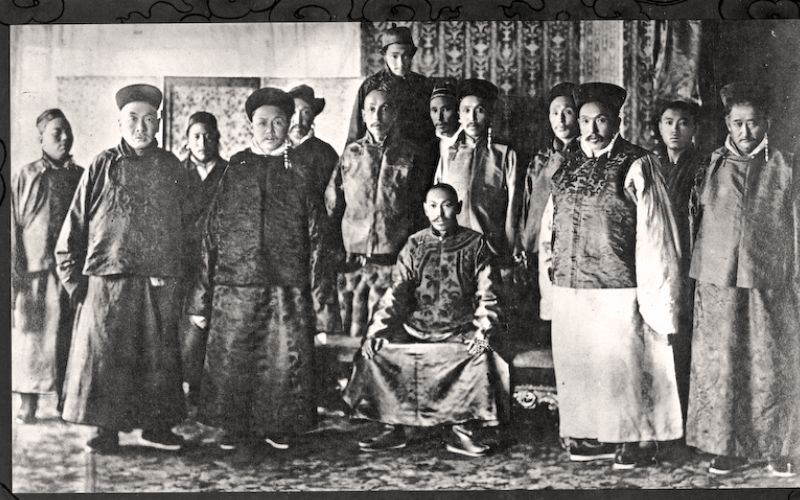 110th Anniversary of the 13th Dalai Lama's Tibetan Declaration of Independence
Today - February 13, 2023 – marks the 110th anniversary of the historic Declaration of Independence; Tibet's leader, the 13th Dalai Lama proclaimed in 1913 that his country was, and had been an independent country for well over 1000 years. He proclaimed Tibetan independence on Feb. 13, 1913, following a period of domination by China's Qing (Manchu) dynasty. The period of self rule that ensued ended when the Chinese marched into the region in 1949 and unlawfully occupied the world's Third Pole.
Today, CCP has reduced Tibet to a colony where it is committing grave human rights violations against humanity and carrying out cultural genocide. When China is spreading lies about Tibet's history and stature, claiming that Tibet has been a part of China, this is an occasion to celebrate and assert Tibet's independence, history, traditions, and values, as well as spread awareness about Tibet and Tibet's cause.
The Declaration of Independence
It was after the fall of the Qing dynasty in 1912, that the 13th Dalai Lama, Thubten Gyatso, announced de facto Tibetan independence in early 1913. The Dalai Lama insisted that he was assuming spiritual and political leadership of Tibet, outside of China's auspices.
The Dalai Lama declared that though not prosperous or technically advanced, "Tibet is an independent nation living in peace and in accordance with religion."; "Tibet is a country with rich natural resources, but it is not scientifically advanced like other lands. We are a small, religious, and independent nation. To keep up with the rest of the world, we must defend our country".
"To safeguard and maintain the independence of our country, one and all should voluntarily work hard. Our subject citizens residing near the borders should be alert and keep the government informed by special messenger of any suspicious developments", the declaration read.
He observed, "Peace and happiness in this world can only be maintained by preserving the faith of Buddhism. It is, therefore, essential to preserve all Buddhist institutions in Tibet, such as the Jokhang temple and Ramoche in Lhasa, Samye, and Traduk in southern Tibet, and the three great monasteries, etc".
"During the time of Genghis Khan and Altan Khan of the Mongols, the Ming dynasty of the Chinese, and the Ch'ing Dynasty of the Manchus, Tibet and China cooperated on the basis of benefactor and priest relationship. A few years ago, the Chinese authorities in Szechuan and Yunnan endeavored to colonize our territory. They brought large numbers of troops into central Tibet on the pretext of policing the trade marts. I, therefore, left Lhasa with my ministers for the Indo-Tibetan border, hoping to clarify to the Manchu emperor by wire that the existing relationship between Tibet and China had been that of patron and priest and had not been based on the subordination of one to the other. There was no other choice for me but to cross the border, because Chinese troops were following with the intention of taking me alive or dead". (Read the translation of the original document here.)
The 13th Dalai Lama
At the time Britain invaded Tibet, the Tibetan head of state was His Holiness the Thirteenth Dalai Lama, Thubten Gyatso (1876–1933). Remembered today as the Great Thirteenth, he was the first Dalai Lama since the Fifth Dalai Lama (1617–1682) to head the Tibetan government through his adulthood. He began his rule of Tibet in 1895. The events of the his reign are critical to understanding the hollow claims of Tibet's occupation by China. He emphasised his country's independent status externally in formal communications to foreign rulers, and internally by issuing a proclamation reaffirming Tibet's Independence and by strengthening the country's defences.
On February 22, 1910, the 13th Dalai Lama started his journey to India, where he spent close to three years. He was forced to leave Tibet when the Manchu force invaded Lhasa. During his stay in India, he met Charles Alfred Bell (1870–1945), the British political officer for Bhutan, Sikkim and Tibet, with whom he developed a lifelong friendship. In India he spent the early months of 1911 touring sacred Buddhist sites including Bodh Gaya. In October 1911 the Qing government collapsed and in 1912, they were driven out of Tibet. The Dalai Lama reached Potala Palace in January 1913 and he released the Tibet's Declaration of Independence on February 13, 1913.
Reforms & intitaives
Thupten Gyatso instituted modernizations in Tibet, such as a postal system, paper currency, roads, and he built the country's first power station. He is credited with revitalizing the institution of the Dalai Lama through his forceful character and political insight, and with trying to end Tibet's centuries of isolation. In 1913, he established the first post office in Tibet and sent four young Tibetans to study engineering in England. In 1914, Tibet's military force by organising special training for the Tibetan army. The fact that Tibet had a Tibetan army of its own is telling proof of Tibet's independent stature before China's unlawful invasion of the country.
Men-Tsee-Khang institute was founded by the 13th Dalai Lama in Lhasa in 1916. Designed to improve the training of Tibetan doctors, it was intended to ensure that every locality should have access to medical practitioners. In 1923, he established a Police headquarters in Lhasa for security and welfare of Tibetans. He also established the first English school of Tibet in Gyaltse. He also instituted a ban on sale and consumption of tobacco in Tibet. (Read the biography of the 13th Dalai Lama here.)
Many of his reforms and initiatives met with crippling resistance from the conservative monastic establishment.
Call for a fact-finding mission to Tibet in 2023
The observance of Tibet's independence day today is a platform to highlight Tibet crisis and educate the world about Tibet's history and counter Chinese propaganda. It is an opportunity to reclaim our history and reaffirm our past, present and future, in our own terms. It is an occasion to tell our stories. Today, we take this opportunity to call for an independent fact-finding mission to Tibet.
The United Nations, as an institution, has largely failed to hold China accountable for the ongoing crisis in Tibet. It has been 24 years since a UN Human Rights Commissioner visited Tibet. The last independent UN Fact-finding Mission visited Tibet in 1985. No meaningful investigation has taken place regarding the treatment of Tibetans, while arbitrary detentions, prison deaths, self-immolation incidents and enforced disappearances continue to happen in Tibet. Any fact-finding/ investigative mission should hold China accountable for the arbitrary detentions happening inside Tibet, take into account CCP's harmful "environmental policies" in Tibet, and question CCP about the whereabouts of Tibet's Panchen Lama, who was abducted in 1995.
CCP is also aggressively focussing on controlling the process of and narratives around the reincarnation of the 14th Dalai Lama and Sinicizing Tibetan religion, language, culture, tradition and education. Recently, UN experts expressed concern at how around a million children of the Tibetan minority were being affected by Chinese government policies aimed at assimilating Tibetan people culturally, religiously and linguistically through a residential school system.
What needs to be done is to ensure that Tibet is always included and never forgotten when we focus on Beijing's crimes, along with the Uyghur genocide, threats to Taiwan and Hongkong. We call upon the policy makers to address exhaustively the issue of Tibet and call for an investigation into the human rights situation of Tibet.
It is time that UN sends an independent Fact Finding Mission to Tibet, the world's Third Pole. As we celebrate the 110th anniversary of Tibet's Independece Day, let us urge UN to stay true to its commitments and avowed aim of standing up for Human Rights.