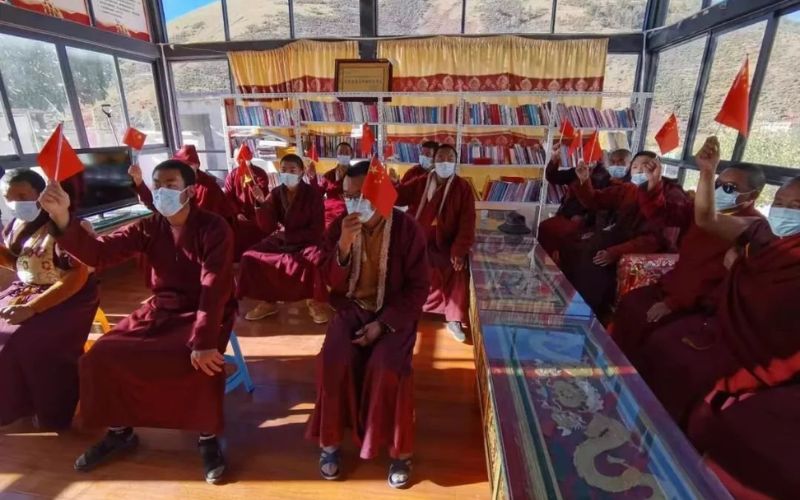 20th CCP Congress & Tibet: What are the Implications?
By Tenzin Samphel
The 20th Party Congress of the Chinese Communist Party (CCP) is underway in Beijing. Ahead of the event, China had started reinforcing its tight control over occupied Tibet and COVID19 provided them an opportunity to strengthen its surveillance apparatus already in place. It leveraged the crisis to increase its repression in the name of Zero-Covid policy. A new Human Rights Watch report pointed towards DNA collection drives by CCP among Tibetans in and outside Tibetan Autonomous Region – from children as young as five years old without consent. This forces one to imagine the possible implications Xi Jinping's re-election will have on Tibet and Tibetans.
Xi Jinping made an unannounced visit to Tibet in 2021. He was the first Chinese President to do so in 30 years. This happened a year after the border clash with India at Galwan valley in Ladakh, which saw army casualties not seen since the 1961 India-China war. During his orchestrated public speech in Lhasa 2021, he said "as long as we follow the Communist Party and as long as we stick to the path of socialism with Chinese characteristics, we will surely realize the great rejuvenation of the Chinese nation as planned." The long standing Chinese government policy is to Sinicise Tibetan buddhism in compliance with communist ideals, which they refer to as "Socialism with Chinese Characteristics".
His visit to Tibet in 2021 was not the first time he stepped foot on the occupied, highly surveilled autonomous region. During his vice-presidency, to mark the 60 years since the Communist take over, he gave a more hardened warning speech from Potala Palace, promising to "smash anyone who attempts to destabilize Tibet". We should thoroughly fight against separatist activities by the Dalai clique by firmly relying on all ethnic groups... and completely smash any plot to destroy stability in Tibet and jeopardize national unity", he said.
When Xi Jinping took the helm as the president in 2013, there was a hope, an air of new understanding, new approach, or new understanding to the long standing Tibet issue. Even His Holiness the Dalai Lama pinned great hope on him. Xi Jinping's father, Xi Zhongxun, knew the Dalai Lama many years ago. One of the close comrades of Hu Yaobang, the senior Xi is even credited with writing a biography of the 10th Panchen Lama. It is also believed that Xi Jinping inherited from his father a watch that was ​​a gift from the Dalai Lama. Xi Zhongxun was also an interlocutor for Tibetan refugees in the 1980s and had opposed the Tiananmen Square crackdown. Even Xi Jinping was sent to the countryside during the Cultural Revolution to till the land and learn the ways of the proletarian.
But very little has come out of Xi Jinping's two terms as Chinese President. The repressive policies from Hu Jintao still continue unhindered. Under Xi, high-end technologies are being used to monitor all Tibetan activities, especially those pertaining to Tibetan Buddhism. Chinese tech giants are complying with the government to monitor and develop special software to target Tibetans from speaking out. Under Xi Jinping, a record number of Tibetans have self-immolated. Even those who are related to self-immolators were not spared. Their social credit system was downwarded, made ineligible to get loans and benefits, blacklisted from getting admission to colleges and schools. So what can we expect from Xi Jinping's third term as president? There is very little hope.
In the months leading to the 20th congress, China had tightened its grip on the Tibetan -populated region, according to a report published by Bitter Winter. "Monks and nuns are "reeducated," those who try to spread Buddhism online are arrested and sentenced, monasteries are destroyed, Tibetan teachers are prevented from teaching outside Tibet, and all Tibetan Buddhist life including reincarnation is tightly controlled. The Tibetan Autonomous Region has seen harshest covid crackdown, which even witnessed Lhasa authorities coming on record to ask for forgiveness in their heavy handedness, unprecedented and unheard of from Chinese officials. Many also perceived that the mismanagement of the Covid outbreak in Tibet could be linked to the 20th National Congress of the Communist party. The zero covid policy is being used to suppress any dissent and critics.
Looking at the ever growing crackdown in Tibet, things are likely to go from bad to worse. Minorities are the receiving end of the repressive Chinese government policies. During its review of China's periodic report in August 2018, the UN Committee on the Elimination of Racial Discrimination expressed alarm over numerous reports of the detention of large numbers of ethnic Uyghurs and other Muslim minorities, under the pretext of countering religious extremism.
The same thing has been reported from various Tibetan regions. Now the Chinese government has devised a new campaign to De-Tibetanize and brainwash an entire generation of Tibetan people by setting up a region- wide network of boarding schools for Tibetan children, separating them from their parents and homes in a bid to reduce their contact with their native language and culture. This is a modern day replica of a similar residential school used by white colonists in natives in America and Canada.
Xi Jinping has an iron grip over the decision making of the politburo member. In 2017, Xi began his second term without designating a successor as party leader, as his two predecessors had done. Shortly thereafter, China's parliament scrapped the two-term limit on the presidency, paving the way for Xi to rule for life if he chooses. He has managed to sideline any who he deemed a threat to his presidency. As a result, he stands alone at the top of Chinese communist party history in a way that no other "paramount leader" has done since the party's revolutionary hero, Mao Zedong. He is even towering above Deng Xiaoping, architect of China's economic superpower. There is very little solace in knowing that his unprecedented hold over the seat will result with ever more crackdown dissent and Han nationalism.
Is there no hope for Tibetans? Xi Jinping's third term presidency could also be his undoing. Remember 'Gang of Four', a Moaist political faction, composed of four Chinese communist party officials? They came to prominence during the Cultural revolution and were later charged with a series of treasonous crimes. The Gang of Four controlled over the power, when Mao Zedong was not in the best shape to rule over China, and their repressive policies and hard grip over the power resulted in revolt in the party.
As His Holiness the Dalai Lama says, nothing is permanent. Things are bound to change. In his letter to China after the 2008 uprising in Tibet, which still rings true, he wrote " policy of creating a harmonious society", but this can only arise on the basis of mutual trust and an atmosphere of freedom, including freedom of speech and the rule of law. "I strongly believe that if these values are embraced, many important problems relating to minority nationalities can be resolved, such as the issue of Tibet, as well as Eastern Turkistan, and Inner Mongolia".
For now , the 20th National Congress of the Communist Party of China, is another orchestrated function, a facade to carry out the same repressive policy.