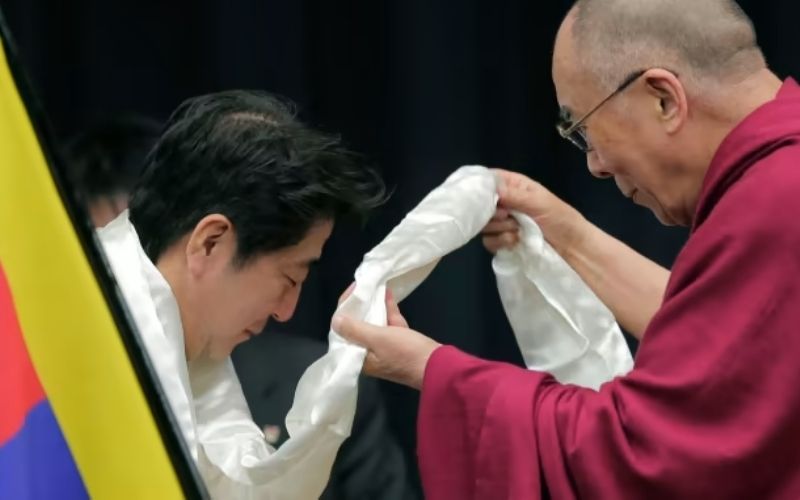 Analysing Japan's Approach To The Tibetan Question
Note: This article was originally published in The Global Order on March 8, 2022 and is being republished on July 8, 2022 in light of Shinzo Abe's assassination.
On February 1, 2022, Japanese lawmakers passed a Diet resolution that highlighted the human rights situation in Xinjiang, Hong Kong, Tibet and Inner Mongolia. The resolution called for "monitoring of serious human rights situations in cooperation with the international community". This was the latest in a list of steps the tiny island nation has taken to voice its concerns about the condition of Tibetans within China-occupied Tibet and Beijing's horrendous human rights record. These actions reflect Japan's commitment to the Tibetan cause and China's unlawful invasion of the Rooftop of the World. What connects Japan to Tibet? What are the reasons behind Japanese interest in Tibet?
Japanese activities & interest in Tibet: A History
It is well known that the 13th Dalai Lama had sought aid from the Japanese government to secure Tibet's independence. Japanese monks were practicing in Tibet, and they served as a link between Lhasa and Japan; monks like Kawaguchi Ekai and Tokan Tada made perilous journeys to Tibet around that time. In 1909, the Japanese sent military advisors to train and modernize the Tibetan army to aid their fight against China.
Interestingly, Aoki Bunkyo, a Japanese Buddhist priest had helped design the Tibetan national flag by adding the traditional Tibetan symbols of the rising sun surrounded by rays. Yajima Yasujiro, a Japanese military expert was appointed to train the Tibetan army. In the 1930s, an intelligence mission was sent to Tibet by Japan's intelligence services to conduct undercover operations. Not long after the 13th Dalai Lama passed away and the Second World War broke out, relations between the two countries could not materialize further.
After the Dalai Lama's exile into India and creation of the Tibetan government-in-exile in Dharamshala, Japan continued to take active interest in the resolution of the issue of Tibet through dialogue. In 1960, when the Indian leader Jayaprakash Narayan convened a Convention on Tibet in India, Japan sent a delegation. After coming into exile, Japan was the first foreign country that His Holiness visited, from September 25 to October 10, 1967.
The Dalai Lama Japan Representative Office was established in Tokyo in 1976 as the official representative office of the Dalai Lama and the Tibetan Government in Exile in Japan. Tibet House, Japan has been holding Tibet Festivals, Tibetan language classes, exhibitions and cultural events to spread awareness about Tibetan culture and traditions among the Japanese public. Interactions in the form of student exchanges, sponsorship of Tibetan students, frequent visits of Parliamentary delegations, exhibitions and other cultural events have strengthened the bond between the two communities. H.H. the Dalai Lama himself has visited Japan to give a series of Buddhist teachings and public talks multiple times.
An All-Party Japanese Parliamentary Group for Tibet was also formed in 2016. The primary objective of the Parliamentary Support Group remains to support the Tibetan cause. The group has evolved to become the world's largest parliamentary support group for Tibet and has also been offering support and assistance to Tibetans-in-exile through Japan's Official Development Assistance program. The Support Group symbolizes strong support for human rights, democracy, and justice.
Shinzo Abe
A long-time supporter of Tibet and Tibetans, Shinzo Abe, the longest-serving prime minister in Japanese history, who served as Prime Minister of Japan and President of the Liberal Democratic Party from 2006 to 2007 and again from 2012 to 2020, played an instrumental role in shaping Japan's relationship with Tibet. Mr. Shinzo Abe, as the leader of the Liberal Democratic Party, was instrumental in establishing the All Party Japanese Parliamentary Support Group of Tibet. He criticized China on its treatment of Tibetans and questioned its human rights record in Tibet. "Tibet seeks freedom and democracy and we agree on those values", he remarked once. Abe believed that Japan, which has engaged in diplomacy around Asia to spread universal values such as freedom, democracy and the rule of law, has to make efforts to secure the human rights of people in Tibet. He held meetings with His Holiness the Dalai Lama and his envoys where he expressed his support for His Holiness Middle Path Approach to solve the Tibet issue.
Current Trends
Tokyo decided not to send a government delegation to the Beijing Winter Olympics 2022 along with countries like the US, UK and Australia which announced a diplomatic boycott of the games as a note of protest against China's human rights abuses in Tibet, Xinjiang, Taiwan, Hong Kong and South Mongolia. This move has come at a time when the repression inside Tibet is at its peak.
Recent years have witnessed China tightening its grip on Tibet and Tibetans. In what can be called a Cultural Revolution - like crackdown, Chinese authorities are destroying Buddha statues, closing monasteries, arresting monks and teachers, imposing Mandarin in schools, detaining Tibetans who maintain contacts with their counterparts outside Tibet and carrying out surveillance. Having a picture of the Dalai Lama on one's phone or refusing to follow the Chinese Communist Party's orders can land Tibetans in jail, where they will be subjected to cruel and inhumane treatment. These are reflective of the People's Republic of China's plan to destroy Tibetan Buddhism and 'Sinicize' Tibet.
The move to diplomatically boycott Beijing Olympics was followed by the Diet Resolution highlighting human rights violations committed by China in these regions. Earlier, in May 2021, Japan had been part of the G7 Foreign Ministers' Communique on China; the group had condemned China's rights abuses in Tibet. In early February 2022, Super Samgha, an Association of Japanese monks had expressed their shock and dismay over the violent destruction of the Buddha Maitreya statue, 45 prayer wheels, and demolition of Tibetan monastic school in Drakgo region in Tibet by China. Such acts of solidarity from the Japanese front have helped convey a powerful message of hope to the Tibetans- both inside and outside Tibet.
2022 is the 50th anniversary of the normalization of Japan's relations with China. However, Tokyo's recent actions including the boycott of Beijing Games have angered Beijing which has accused Japan of having a "Cold War mentality". Since Japan is a part of the Quad and has taken a strong stance against Chinese overtures against Taiwan, Japan understands the need to support Tibet, given its historical ties with Tibet as well. It reflects Japan's increasing pressure on China with regards to its human rights record.
Way Forward
The Land of the Rising Sun and the world's Rooftop have links that can traced back to a hundred years. The first 10 numerals sound similar when pronounced in Japanese and Tibetan languages. Japan should try to build on these nodes and reinforce attempts to reinvigorate connections between the two cultures and people. More awareness about the human rights situation in China occupied Tibet needs to be spread among people. China is indulging in an intensified misinformation warfare and media manipulation to spread narratives about Tibet and its status; a concerted effort is required to counter this and educate the world about the Chinese annexation of Tibet and its efforts to erase its culture, traditions, identity and history.
Buddhism is a powerful link that connects Japan with Tibet, and Dharamshala. China, in its attempts to woo other major Buddhist countries, is using Buddhist diplomacy as a tool of influence to grow into a Buddhist superpower, interfere in the reincarnation debates of the Dalai Lama, Tibet's spiritual leader and bolster its Belt and Road Initiative. Japan, which has a sizeable Buddhist population, can play a key role in this context.
Tibet, the third pole, holds a key position in global climate change debates. The plateau has more than 46,000 glaciers, 14.55 % of the world's total. A country like Japan that has acknowledged climate change as a common challenge of humankind can also help initiate discussions on the impact of climate change on the Tibetan plateau and its aftermath at a global level. Global warming and glacier melt off are issues that concern Japan; sea level rise could expose the island nation to threats of coastal flooding and storm surges. Japan can help raise the issue of the Tibet climate crisis and the significance of the Tibetan plateau in global climate change discourse in the international arena. As the Dalai Lama envisioned in the Five Point Peace Plan for Tibet, Tibet should be converted into a "sanctuary of environmental protection".
On a more concrete front, Tokyo and Washington could work together to coordinate human rights pressure over developments in Tibet. Japan could begin discussions to pass a law along the lines of the US Tibet Policy and Support Act of 2020. There is a need to convert rhetorical support into substantive political steps. The focus should be to drive more international attention towards the plight of Tibetans inside China-occupied Tibet. A bill like the one passed by the United States, banning imports from Xinjiang can also be considered to put pressure on China to amend its human rights record in Xinjiang and Tibet. What is happening in Tibet is nothing less than a Cultural Genocide. While the U.S. government has officially deemed China's oppression of Uyghurs in the Xinjiang region a "genocide", Japan hasn't used the term 'genocide' to describe Chinese treatment of Uyghurs/ Tibetans yet. The appointment of General Nakatani as the new special human rights adviser to Prime Minister Fumio Kishida is a step in the right direction.
Japan's cultural, political and social identity is shaped by the collective memories of the trauma that the atomic bombings in Hiroshima and Nagasaki inflicted on it and the country, and its people understand the pain that a downright erasure can inflict upon a community. Japan, whose official human rights policy states that it strives to "contribute to the improvement of the world's human rights environment", should take up a leadership role and play a more active role in advocating for Tibet and the Tibetan cause.
(Lakshmi P is currently serving as Senior Research Associate with Tibet Rights Collective)